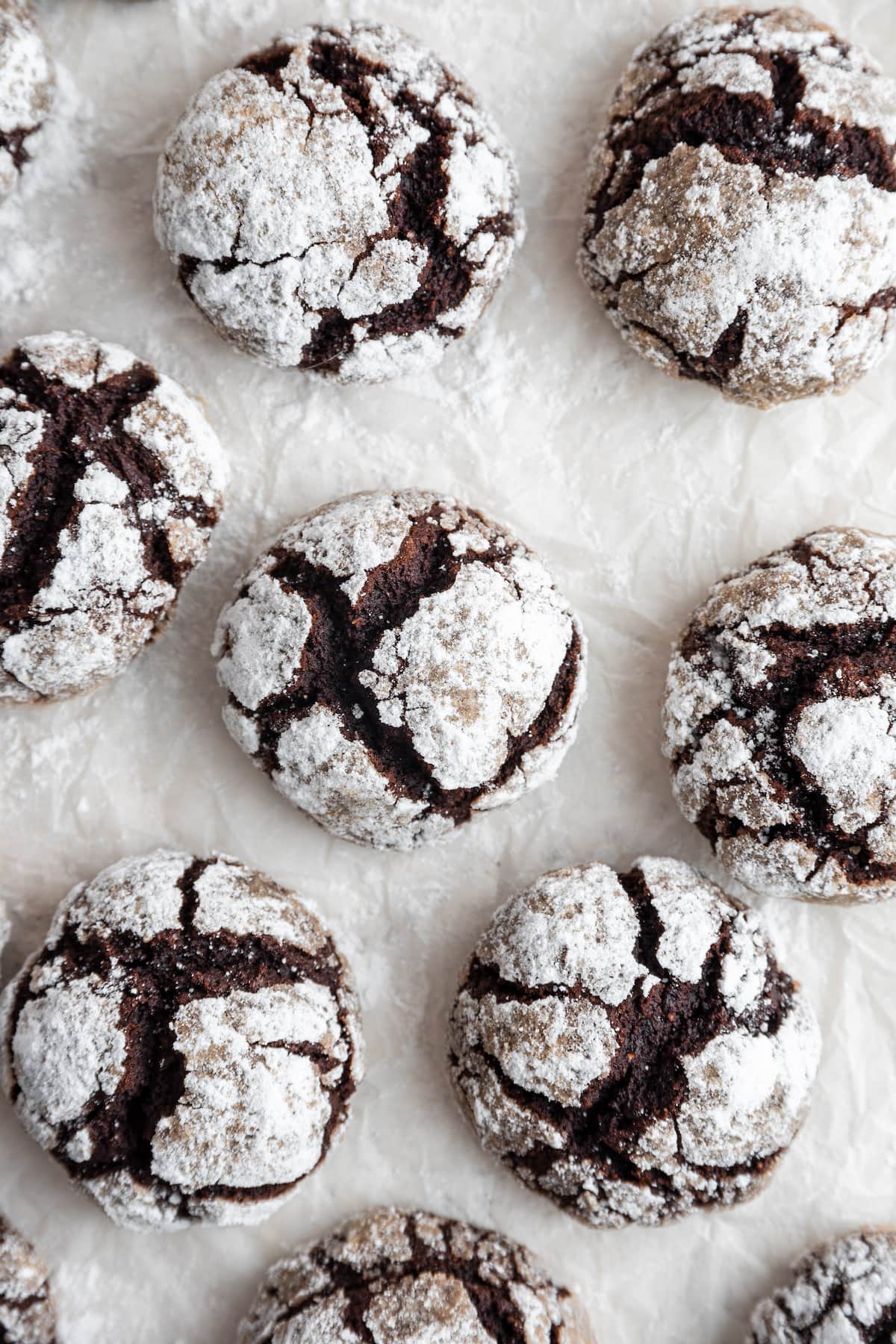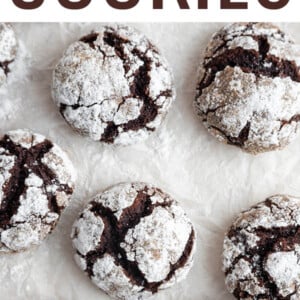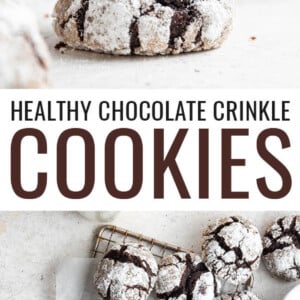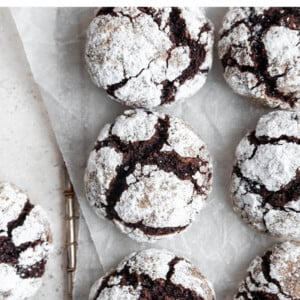 These soft and fudgy chocolate crinkle cookies are made with whole wheat flour, applesauce, maple syrup and coated in confectioners' sugar. They're the perfect addition to your holiday cookie tray!
Today I'm sharing a holiday classic with an EBF spin: chocolate crinkle cookies!
If you've never had a chocolate crinkle cookie before, they're basically a mix between a soft cookie and a fudgy brownie. They're coated in powdered sugar before baking, which when baked creates "crinkles" in the cookie.
Apparently the original chocolate crinkle cookie recipe was created by Helen Fredell and first made an appearance in Betty Crocker's 1957 cookie cookbook, "Cooky Carnival" and they've been a holiday favorite ever since!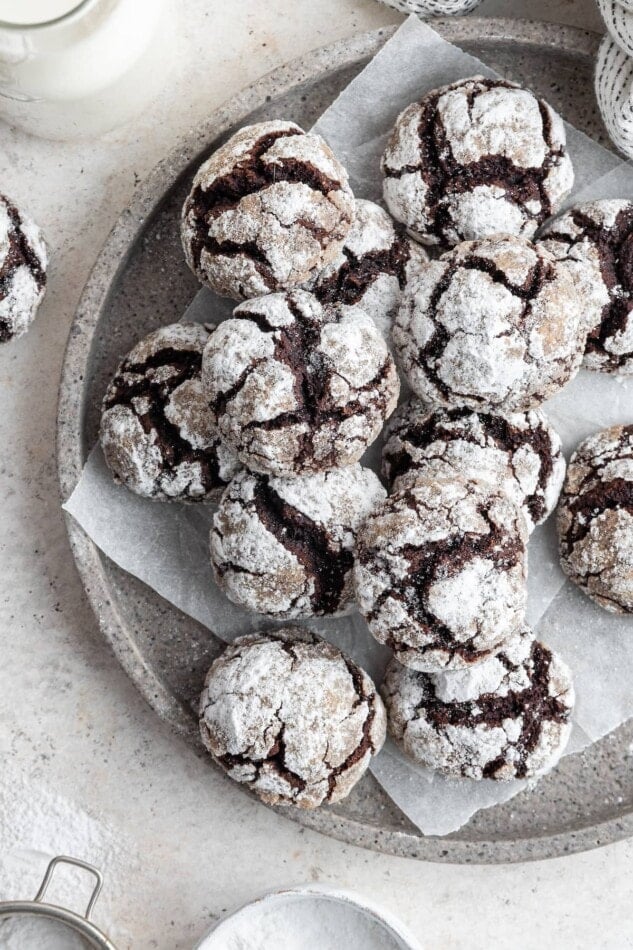 Why You'll Love These Cookies
Soft and chewy texture on the inside with a crackly, sugar-coated exterior.
They're fudgy and taste like a brownie, but in cookie form.
A classic holiday cookie recipe made healthier with a few ingredient swaps!
You only need 10 simple ingredients!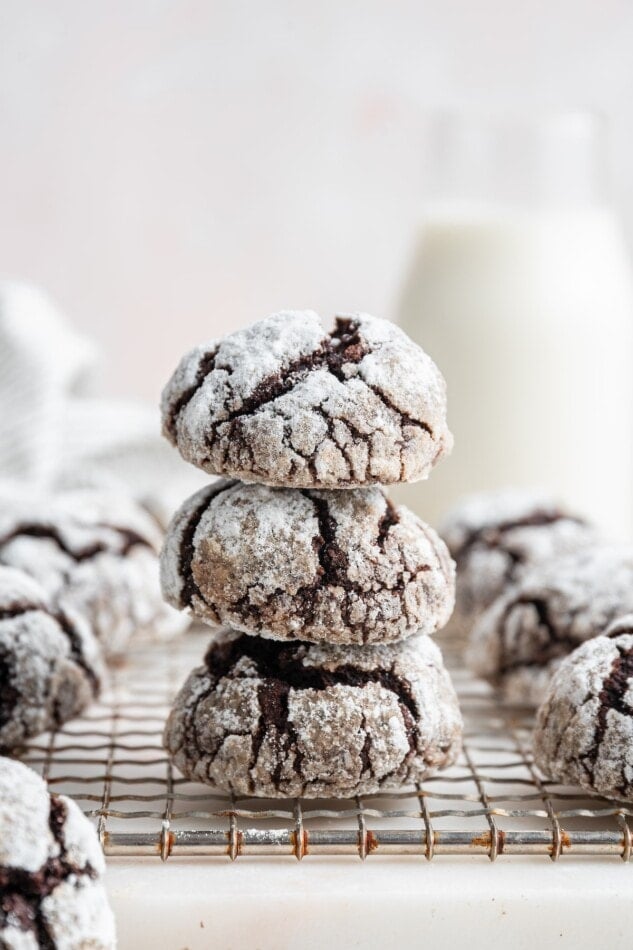 Chocolate Crinkle Cookies Made Healthier
The classic chocolate crinkle cookie recipe is made with butter, white flour and white sugar, but in true EBF fashion I swapped a few ingredients to make a healthier version.
I used whole wheat pastry flour instead of all-purpose flour, a combination of coconut oil and applesauce instead of butter and maple syrup instead of white sugar. Even though these cookies are a tad healthier, they're still just as delicious. You won't even be able to tell the difference, trust me!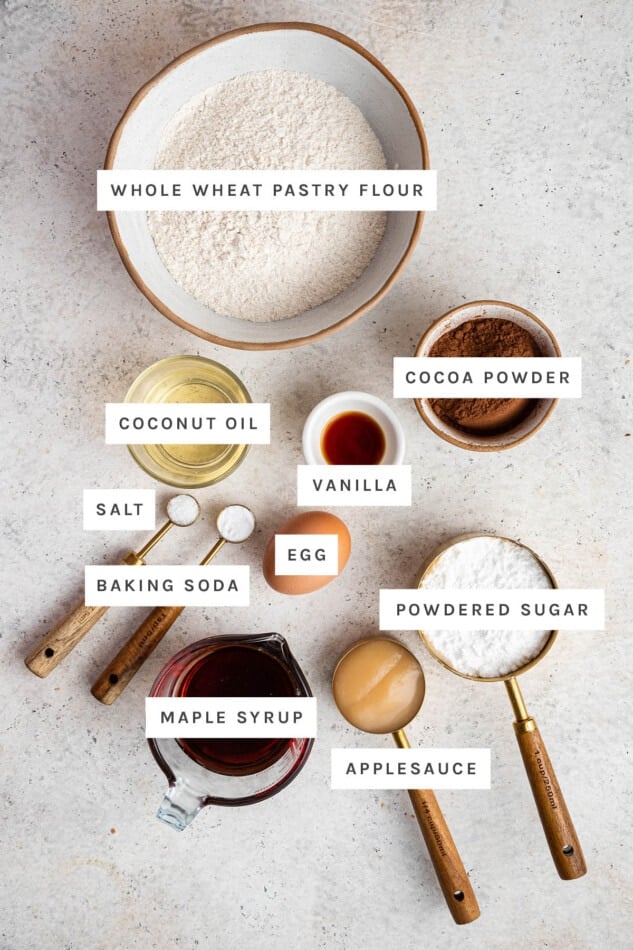 Ingredients Needed
whole wheat pastry flour – a whole grain, nutrient-dense flour that results in tender and chewy cookies. My go-to brand is Bob's Red Mill whole wheat pastry flour. If you can't find whole wheat pastry flour you can also use white whole wheat flour, a blend of all-purpose and regular whole wheat flour or just regular all-purpose flour.
cocoa powder – adds the chocolate flavor to these cookies! Make sure to use unsweetened cocoa powder or cacao powder.
baking soda – helps these cookies rise.
salt – brings all the flavors together.
egg – helps bind the wet and dry ingredients together.
coconut oil – a great alternative to butter that helps to keep the cookies moist. You want the oil to be in a liquid state so warm it a bit if necessary before measuring.
applesauce – provides moisture and a subtle sweetness to the cookies.
maple syrup – the perfect natural sweetener for these cookies, in my opinion.
vanilla extract – for a flavor enhancer.
confectioners' sugar – also known as powdered sugar. It's what we're rolling the dough in before baking. As they bake and expand in the oven the cookies will form "crinkles."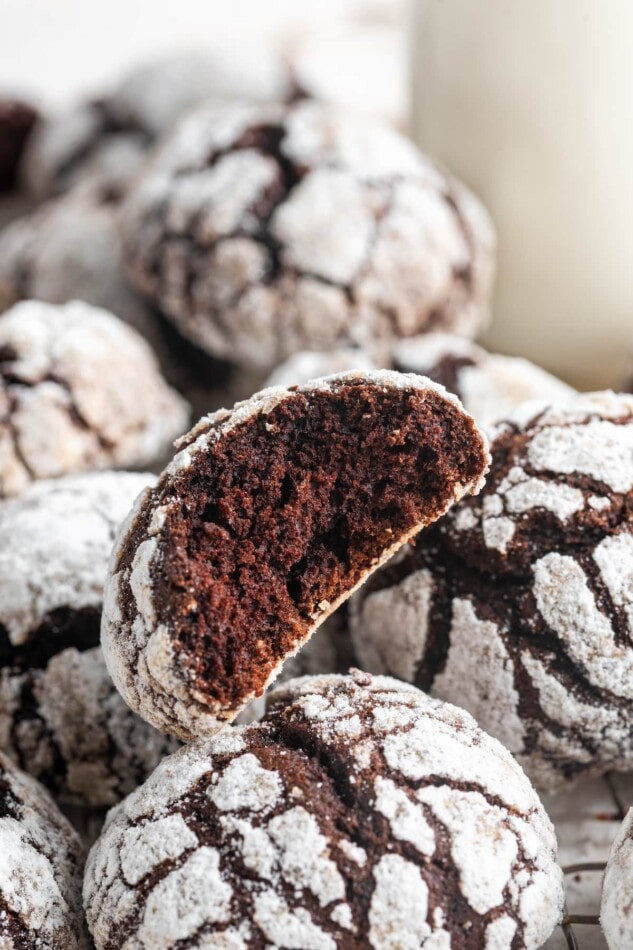 Substitutions & Notes
Oil: You could swap the coconut oil for vegan butter, regular butter or another neutral oil like avocado or olive oil.
Sweetener: If you don't have maple syrup on hand you could always use a different liquid sweetener like honey, agave syrup or date syrup. I haven't tried these cookies with dry sugar like coconut sugar so I'm not sure how they'd turn out.
Flour: I like using whole wheat pastry flour for these cookies, but you could use all-purpose flour instead. If you need to make these cookies gluten-free, I bet a 1:1 gluten-free all-purpose flour substitute will work just fine. Let me know in the comments if you try a gluten-free version!
Egg: I haven't tried swapping the egg for a vegan substitute like a flax egg so I'm not sure how the cookies will turn out, but let me know if you try it in the comments below!
Applesauce: I haven't tried a replacement for the applesauce, but I bet mashed banana or even Greek yogurt would work well!
Want to add more chocolatey goodness? Mix in chocolate chips to the batter before chilling the dough!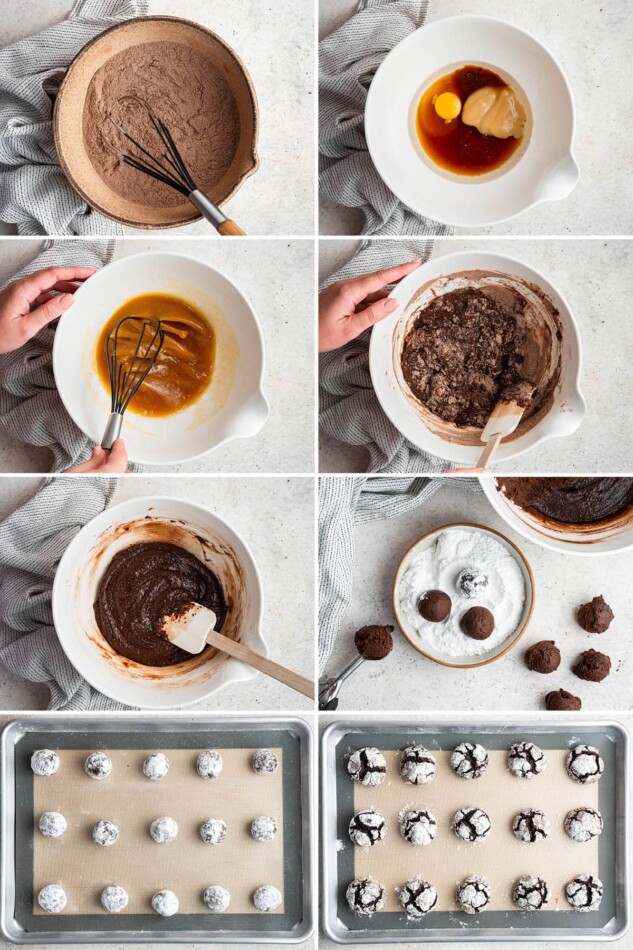 How to Make
Mix dry ingredients: Mix the flour, cocoa powder, baking soda and salt in a medium bowl.
Mix wet ingredients: In a separate large mixing bowl whisk together the egg, coconut oil, applesauce, maple syrup and vanilla extract.
Combine: Add the dry ingredients to the wet ingredients and mix well until just combined.
Chill: Cover dough with plastic wrap and chill the dough for about 1 hour covered in the fridge.
Roll dough: Preheat the oven to 350°F. Line a baking tray with parchment paper or a silicone baking mat and add the powdered sugar to a shallow bowl. Once ready, scoop the dough into balls using a cookie scoop or Tablespoon. You want about 1 1/2 Tablespoon of dough per cookie. Then roll each cookie dough ball into the powdered sugar. Place dough balls onto the baking sheet, but don't press them down!
Bake: Bake cookies for 12-13 minutes. The cookies should spread and crinkle and the edges should appear to set. Remove from the oven and let cool slightly on cookie sheet. Then move cookies to a wire rack to cool completely.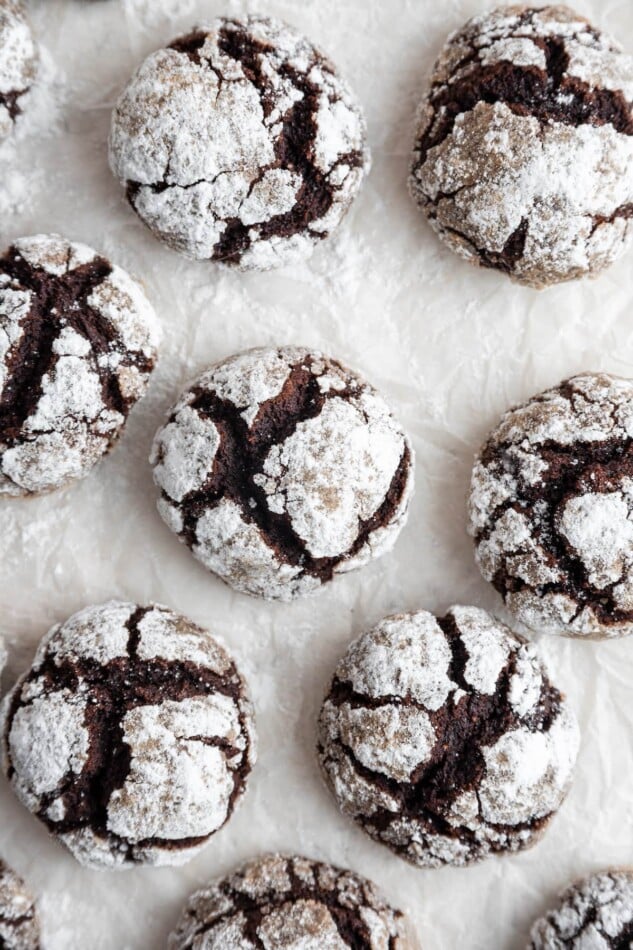 Tips For Success
Chill the dough: Chilling the dough helps to prevent them from spreading too much while baking. It also helps to give them a more defined shape. Chilling the dough also helps prevent the powdered sugar from melting into the dough before baking.
Use room temp ingredients: Cookies are best when the ingredients are at room temperature because the dough will spread evenly and the cookies will be more uniform in shape. Room temperature ingredients also mix together more easily, so you'll end up with a more consistent dough.
Rolling in the powdered sugar: When applying the powdered sugar, be sure to tap the cookies lightly after rolling them in the sugar. This will help remove any excess sugar and give the cookies a more consistent coating. If you are baking in a hot or humid location you may end up with the powdered sugar melting into the dough. A tip to help with this is by coating the dough in granulated sugar first, then heavily coating in powdered sugar.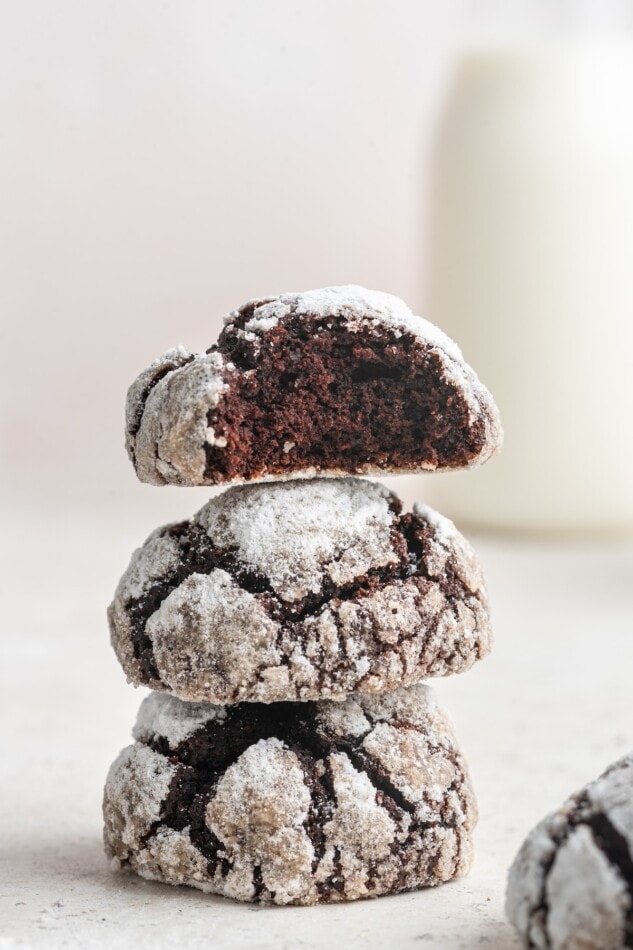 How to Store Chocolate Crinkle Cookies
Store these cookies in an airtight container at room temperature for 4-5 days or in the fridge for about a week. For longer storage, you can store these cookies in the freezer.
Freezing baked cookies: Let the cookies cool completely then store in a freezer-safe container with parchment paper in between each layer.
Freezing unbaked cookies: Roll your dough into balls, then place in an airtight container and freeze for up to 3 months. When you're ready to bake, let the dough balls thaw in the fridge, roll in powdered sugar and bake!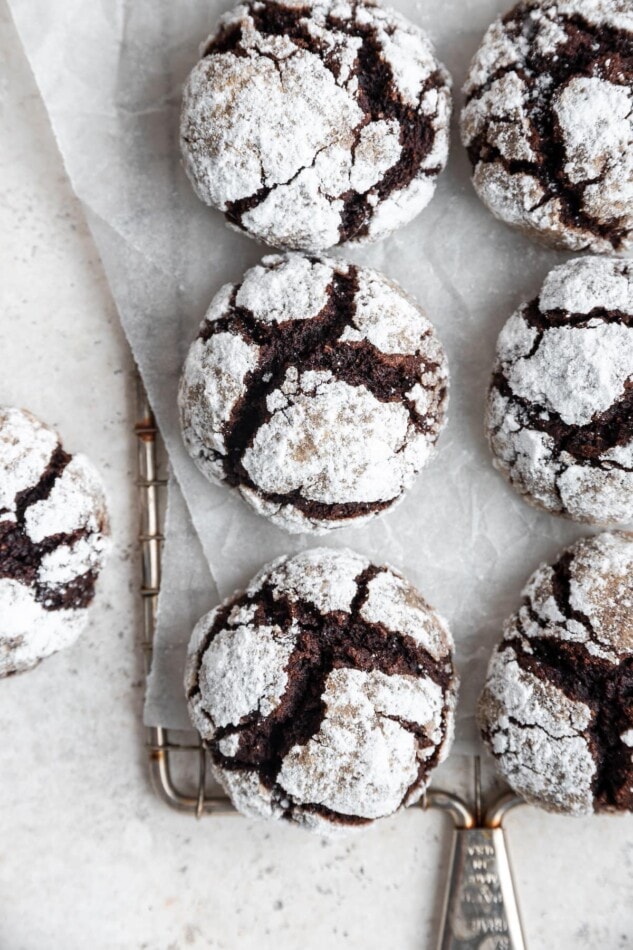 More Holiday Cookies to Try
Be sure to check out all of the healthy Christmas cookies as well as the full collection of cookie recipes here on EBF.
Chocolate Crinkle Cookies
These soft and fudgy chocolate crinkle cookies are made with whole wheat flour, applesauce, maple syrup and coated in confectioners' sugar. They're the perfect addition to your holiday cookie tray!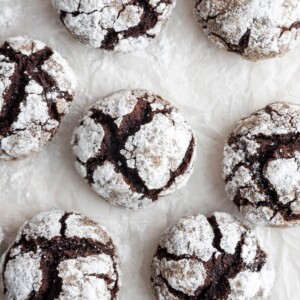 Total Time 1 hour 22 minutes
Servings 15
Serving: 1 cookie Calories: 111kcal Carbohydrates: 19g Protein: 1g Fat: 4g Saturated Fat: 3g Cholesterol: 12mg Sodium: 169mg Potassium: 77mg Fiber: 1g Sugar: 14g
DID YOU MAKE THIS RECIPE?
Please leave a comment and star rating on this post and share on social media using the hashtag #eatingbirdfood. I love seeing your recipe shares!
This post may include affiliate links. Thank you for your support.