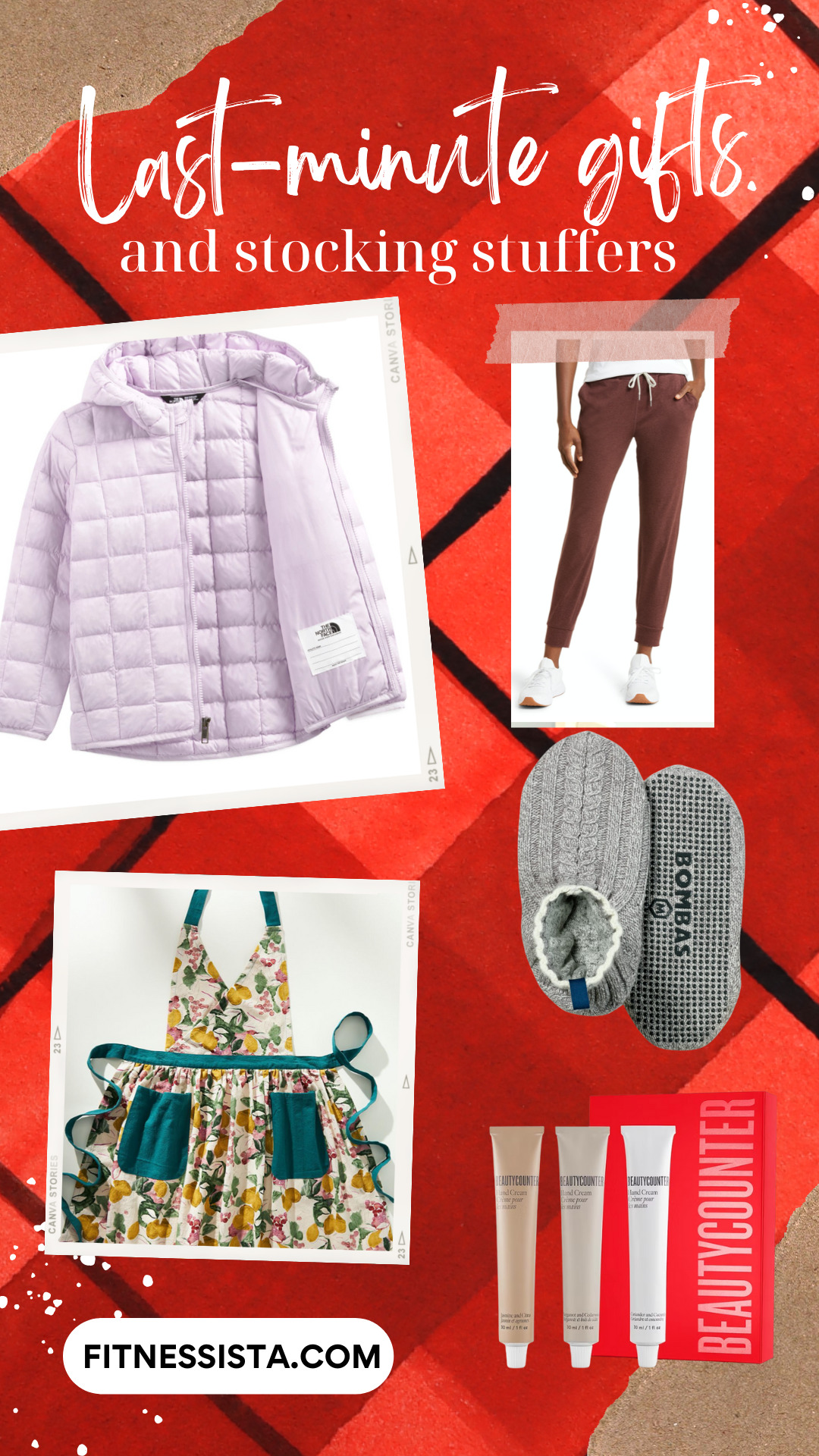 Sharing some last-minute gift ideas and stocking stuffers for everyone on your list!
Hi hi! How are ya? I hope you had a wonderful weekend. Ours was low-key and perfect. Friday was a bit wild (girl scouts, dance, a bday party) but Saturday was gloriously low-key. We watched movies and baked Christmas cookies, and I took a hot yoga class. Sunday morning was a hike, work, and putting lights up at nana's house.
Today, I have some work to do for Fit Team (getting January workouts and our challenge ready to go!), but wanted to pop in and share some last-minute gift ideas. I'm finishing things up over here – I dubbed tomorrow "Holly Jolly day" and am spending the day wrapping and getting any remaining gifts – and wanted to share some inspiration if you're doing the same this week! A lot of stores have shipping cutoffs, but if you order in the next couple of days, you should be good to go. Here are some ideas if you're checking off gifts this week!
Last-minute gifts and stocking stuffers
Last-minute gifts that will get here on time:
For her:
– This sweater! I got this and absolutely love it. It's high quality and on sale right now, and the camel color is gorgeous.
– This velvet jumpsuit (or get this one for yourself)
– Water resistant Chelsea boots (I have these in black and wear them constantly)
– A sauna blanket or PEMF Go Mat. My liiiiiiiiiiiife and two of my very favorite things. I use the Go Mat daily for meditation, and use the sauna blanket 2-3 times per week and it feels amaaaaazing. I sleep so well and it makes my skin glow. Use FITNESSISTA15 for 15% off HigherDOSE faves.
– The best crosstraining sneakers
–A trendy asymmetrical bra for yoga.
– Cookbook with new fuel ideas
– A Sakara delivery! These meals are so fresh and beautiful, and will feel like such a wonderful gift for a sleep-deprived mama. She'll be able to enjoy nourishing and beautiful meals she didn't have to cook herself. Click here and use XOGINAH for 20% off meal delivery and clean boutique items.
For him:
– Men's Ugg slippers on an awesome sale
– The Pilot's fave workout shorts
– A classic metal vent tech tee
– The Pilot's fave workout shorts.
– New weights or even a bench set with squat rack.
– A wall-mounted massage roller.
– The most amazing button-down shirts (the Pilot LOVES these).
For the kids:
– Magnatiles or anything Lego
– Dance or gymnastics leotards
Stocking stuffers:
For her:
– Love this cozy beanie (on sale)
– These gorgeous mini stud earrings
-My top leggings pick. I always come back to these ones because the quality is amazing and they're not see-through at all.
– The cutest belt bag! They're constantly out of stock but at the time of writing this post, they're still available
– Fruit babies bestsellers (split these up)
– Topical magnesium spray. I've been obsessed with this for maybe 2 years now! I spray it on the kids' feet, too.
–Small candles from a beloved local company (get Mt. Lemmon or Sedona!)
– This hand salve for super dry hands
For him:
The best sports headphones. We both have these and love them!
Weed torch – totally getting this for the Pilot
His favorite snacks
His skincare or hair care faves
Tiny bottles of mixers or whiskey
For the kids:
Books make awesome stocking stuffers! Some faves:
– The Babysitter's Club graphic novels. Liv has read all of these and LOVES them. I highly recommend if you have an 8-11 year old
– Small lego sets
– Stuffed animals or little Jellycats
– Personalized bookmarks or hair clips
The girls also love jewelry, slime (my nightmare lol but they love it), sunglasses, and then they were babies I did shaker toys, little dolls, bubbles
Happy Monday, friends!
xo
Gina
Note: none of this post is sponsored and companies are unable to purchase spots on my holiday gift guides. These are all curated by yours truly and include items I genuinely think would make awesome gifts. Affiliate links are included, which have no impact on purchase price, but enable me to earn a small kickback. When you shop through my affiliate links, you directly support my little blog and the cost of keeping everything running smoothly over here. Thank you! <3