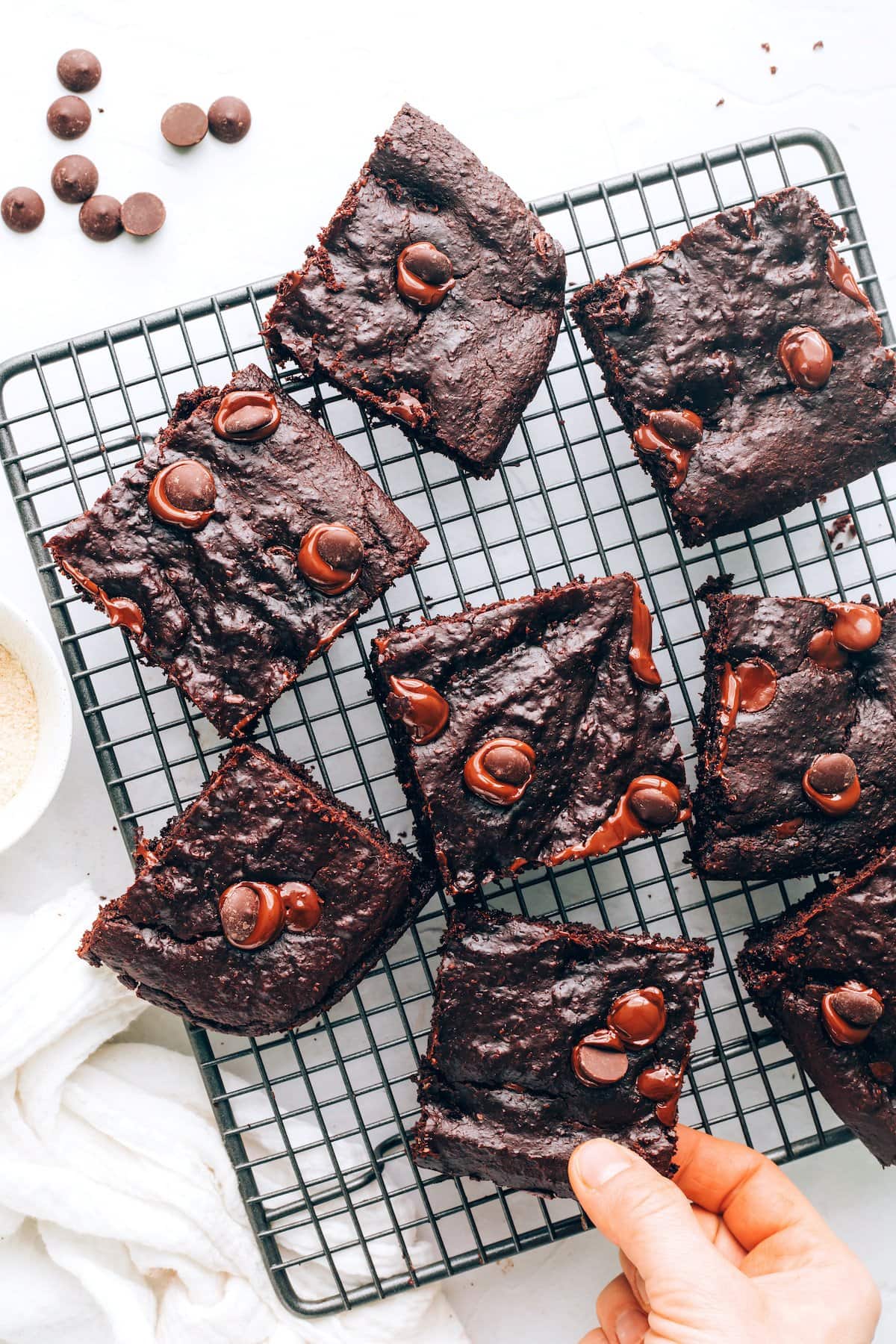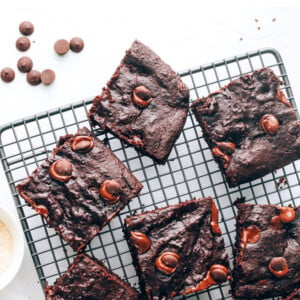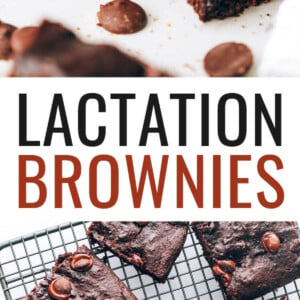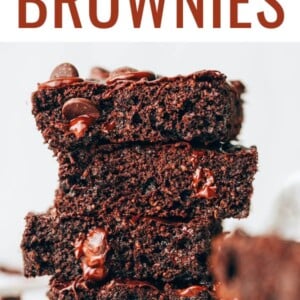 Healthy lactation brownies made with ingredients to help boost milk supply for breastfeeding including brewer's yeast and oat flour. They're rich, fudgy, and naturally gluten-free.
With baby boy due in just a few weeks I've been meal prepping lots of lactation treats as part of my pre-baby meal prep. Lactation cookies, lactation bites and now these lactation brownies!
This recipe is actually based off of the oat flour brownies. The only difference is that I swapped some of the oat flour with brewer's yeast, which is one of the main ingredients that helps with milk production.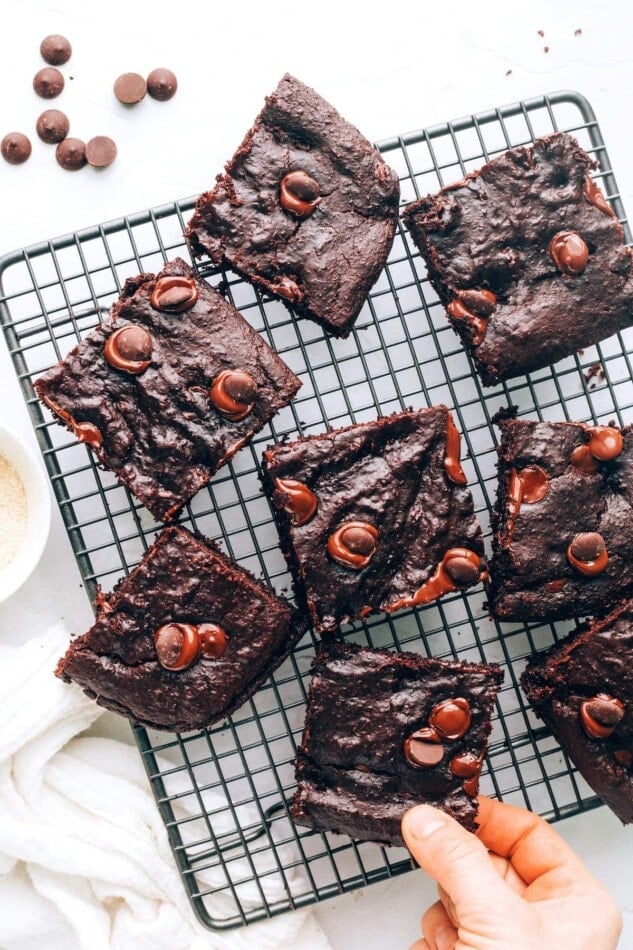 I definitely noticed a difference in my supply when I ate my lactation cookies and lactation bites on a regular basis and I'm super pumped to now have a recipe for tasty brownies that will help with my supply as well.
I created this recipe with mamas with dietary restrictions in mind, so these brownies are dairy-free, soy-free and gluten-free, but still perfectly fudgy and absolutely delicious.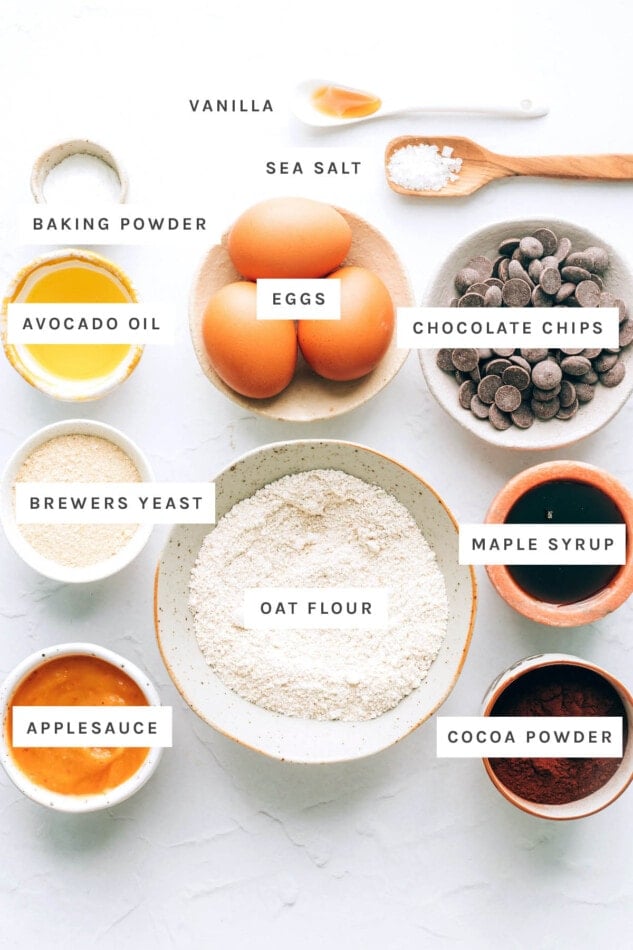 Ingredients Needed
oat flour – oats are known to help with milk production so they're the perfect base for these brownies. Use store-bought or you can make your own using my oat flour recipe. If you're making your own oat flour, 1 cup rolled oats will result in about 3/4 cup oat flour.
brewer's yeast – brewer's yeast is one of the best foods to help with breast milk supply (see below for more info). It is packed with vitamin B, iron, zinc, magnesium and potassium.
cocoa powder – add that delicious chocolatey goodness with cocoa powder! Make sure you're using unsweetened cocoa powder. Cacao powder works as well. My fave brand is Navitas organic cacao powder.
sea salt – brings all the flavors together.
baking powder – to help the brownies rise.
eggs – I have not tried swapping the eggs for flax eggs, but I bet it would work. The brownies just might not rise as much. Let me know if you try an egg-free version in the comments below.
avocado oil – avocado oil helps to moisten the brownies and has a neutral flavor. It's also heart-healthy and a wonderful source of antioxidants. If you don't have avocado oil on hand feel free to swap it with another oil like coconut oil, olive oil or vegetable oil.
maple syrup – one of my favorite natural sweeteners.
unsweetened applesauce – you can use store-bought or make your own using my applesauce recipe.
vanilla extract – a flavor enhancer.
chocolate chips – I recommend Enjoy Life dark chocolate chips which are allergen-friendly or Lily's chocolate chips because they are low in sugar and calories.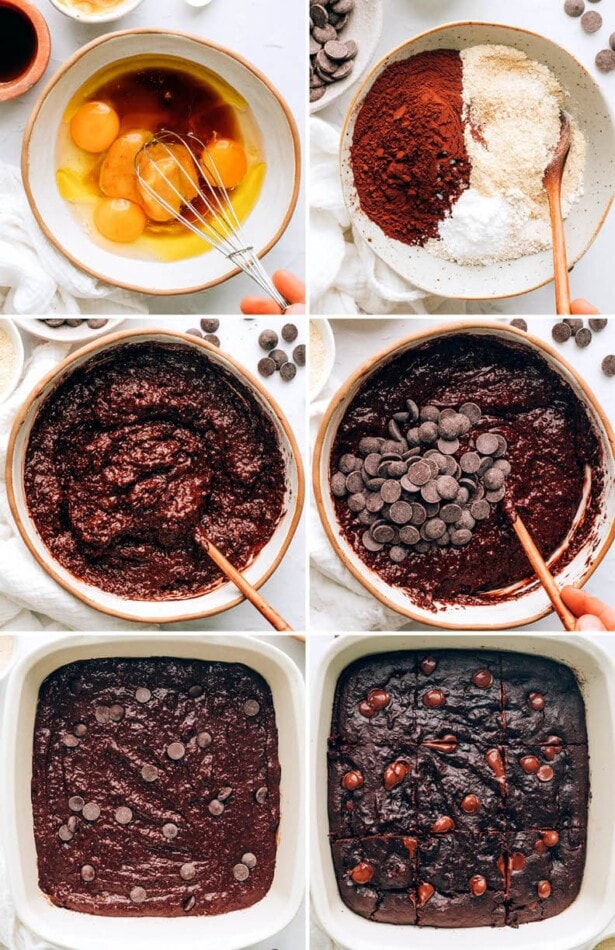 How to Make
Making these lactation brownies is really similar to making regular brownies and incredibly easy.
In a medium mixing bowl, start by combining oat flour, brewer's yeast, cocoa powder, sea salt and baking powder. In a large mixing bowl whisk together eggs, avocado oil, maple syrup, applesauce and vanilla extract. Pour dry ingredients into wet ingredients and stir together until just combined. Gently fold in the chocolate chips.
Grease an 8×8 inch baking pan or line with parchment paper. Pour the brownie batter into the pan. Bake at 350ºF for 25-30 minutes. You'll know the brownies are done when a toothpick inserted into the center comes out clean.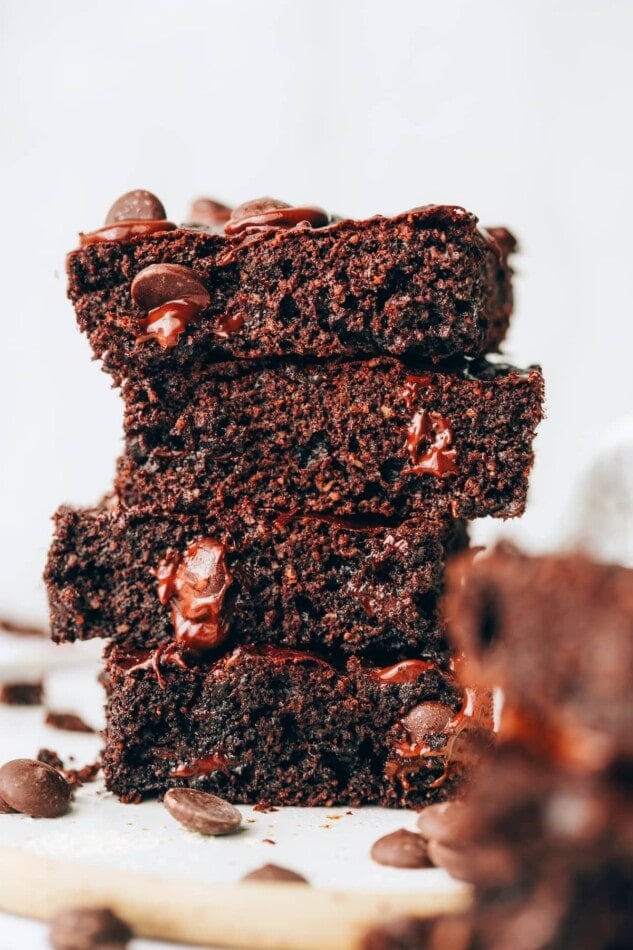 Foods That Help Increase Milk Supply
When developing my lactation recipes I did some research on what foods help with milk supply. Here are the top foods:
Oats – One of the reasons for decreased milk supply is low iron levels. Oats are high in iron so some studies have shown that oats help with milk production. I personally love having some sort of oat-based breakfast almost daily. I'm a big fan of overnight oats (these chocolate chip overnight oats are my go-to) and baked oatmeal (I love my strawberry banana baked oatmeal). I gravitate towards these options because I can prep them in advance.
Barley – Whole barely is the richest dietary source of beta-glucan, a polysaccharide that has been shown to increase prolactin (aka the breastfeeding hormone). This barley salad is so delicious!
Brewer's yeast – It is considered a "galactagogue," which is anything that promotes breast milk production. Brewer's yeast is packed with vitamins and minerals – most notably, vitamin B, iron, zinc, magnesium and potassium. It's also a good source of protein. One 1/4 cup serving offers 8 grams of protein. While brewer's yeast has a lot of really great benefits, it's important to note that you should talk to your doctor before adding brewer's yeast to your diet as it can interact with a variety of medications.
Flaxseed – Flaxseed is high in omega-3 fatty acids (which are great for baby) and it also contains phytoestrogens that can influence breast milk production.
Fennel – Like flaxseed, fennel and its seeds contain phytoestrogens, which are known to help with milk production. If you're looking for ways to include whole fennel in your diet, I love these recipes: crackling cauliflower, fennel salad and orange tofu with fennel.
Fenugreek seeds – Both fenugreek seeds and fennel can be found in Mother's Milk tea.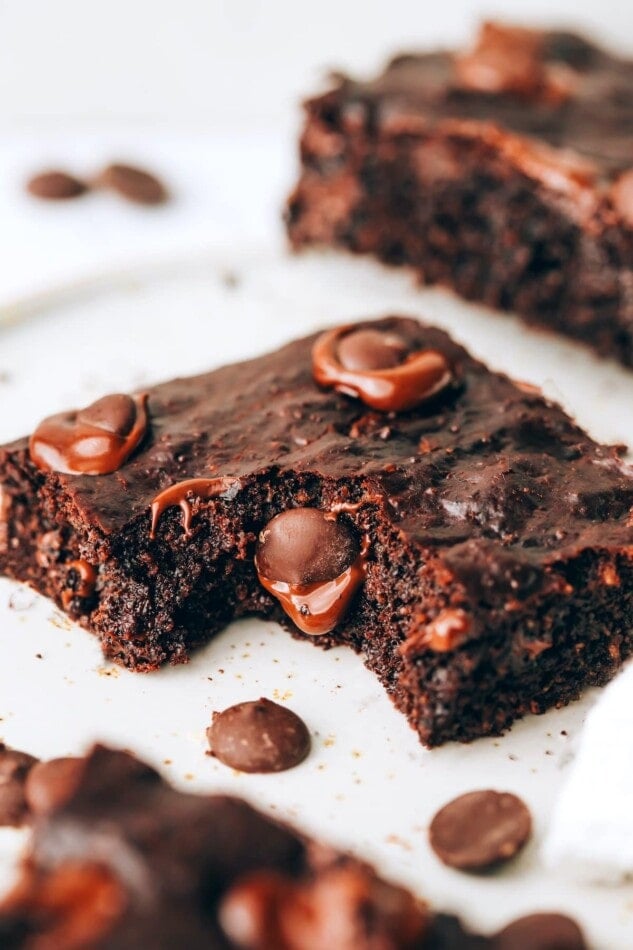 FAQ's
When should I start eating lactation brownies?
I started eating lactation treats as soon as Olivia was born, but some people suggest starting 1-2 weeks before delivery to help establish your milk supply. That said, I do recommend talking to your doctor or lactation consultant before adding brewer's yeast to your diet to make sure there are no issues.
How often should I eat lactation brownies?
When consuming lactation brownies or any other lactation treat, consistently is key! The amount of brownies to consume each day depends on your body and your personal milk supply, but I would start with 1 brownie per day and then increase to 2 based on your results.
How quickly do lactation brownies work?
If you are consuming them consistently the average time frame to see results is 1-3 days, but this will vary person to person. It is also recommended to eat a lactation treat 1-2 hours before breastfeeding or pumping.
Can you eat too many lactation brownies?
Yes! If you consume too many lactation brownies you could end up with an oversupply of milk or you could encounter gas, bloating or headaches, which are all common side effects of brewers yeast.
Can you freeze lactation brownies?
Yes! I ended up making several batches while recipe testing, which I froze for when baby boy arrives. To freeze, let the brownies cool completely, cut them into squares and store in a freezer-safe bag or container. When ready to enjoy, let the brownies thaw in the fridge or on the counter at room temperature.
How to Store
Store cooled brownies in an airtight container at room temperature for 2-3 days, in the fridge for up to 7 days or in the freezer for up to 3 months.
More Recipes to Help with Milk Supply
More Brownie Recipes to Try
Be sure to check out all of the dessert recipes on EBF as well as my baby meal prep ideas!
Lactation Brownies
Healthy lactation brownies made with ingredients to help boost milk supply for breastfeeding including brewer's yeast and oat flour. They're rich, fudgy, and naturally gluten-free.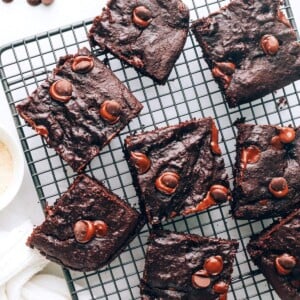 Serving: 1brownie Calories: 230kcal Carbohydrates: 25g Protein: 7g Fat: 15g Saturated Fat: 4g Polyunsaturated Fat: 1g Monounsaturated Fat: 7g Cholesterol: 47mg Sodium: 169mg Potassium: 108mg Fiber: 5g Sugar: 9g
DID YOU MAKE THIS RECIPE?
Please leave a comment and star rating on this post and share on social media using the hashtag #eatingbirdfood. I love seeing your recipe shares!
This post may include affiliate links. Thank you for your support.