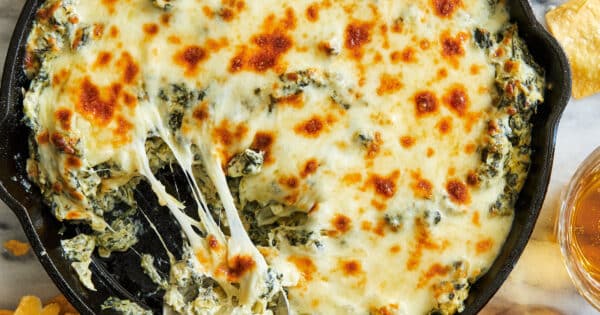 The BEST spinach and artichoke dip! So cheesy, so rich, so creamy, so stinking easy. Sure to please everyone!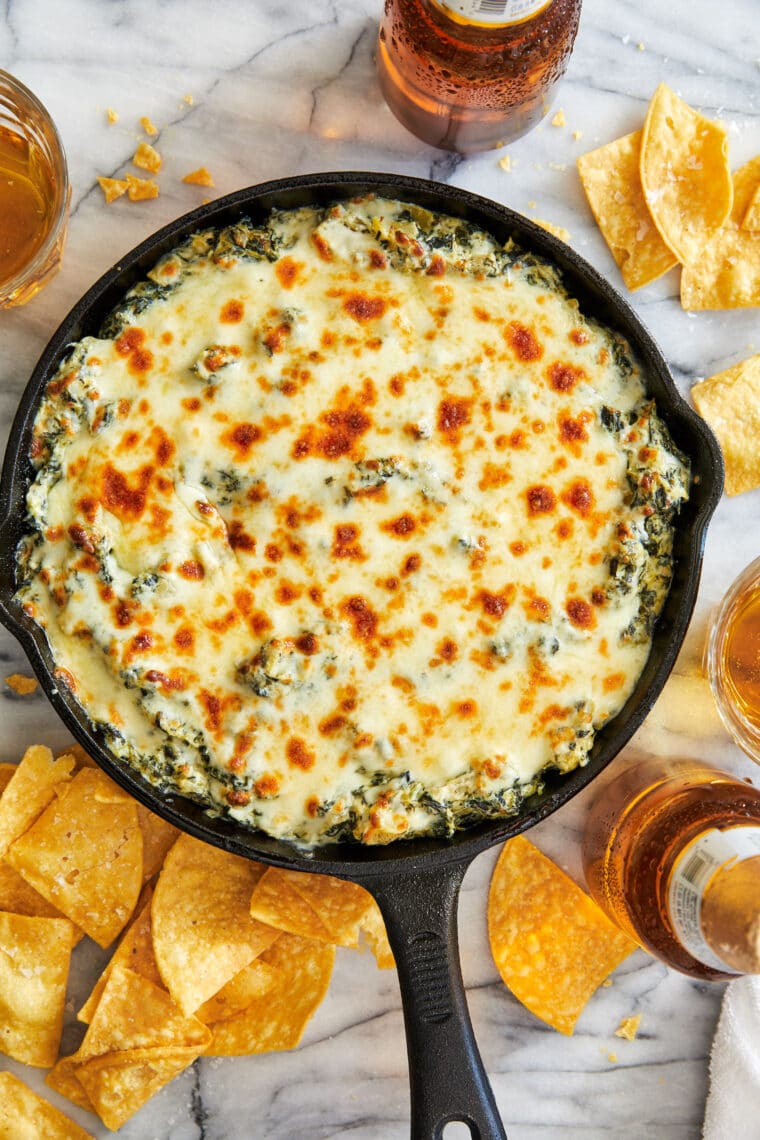 Can we just live in the pool of this piping hot spinach and artichoke dip? A dip so creamy, so cheesy and so perfectly rich for all your tortilla chip dipping needs?
(Don't worry. We can do so much more than tortilla chips here. We can do pita chips. We can do crostini. We can do all the things here.)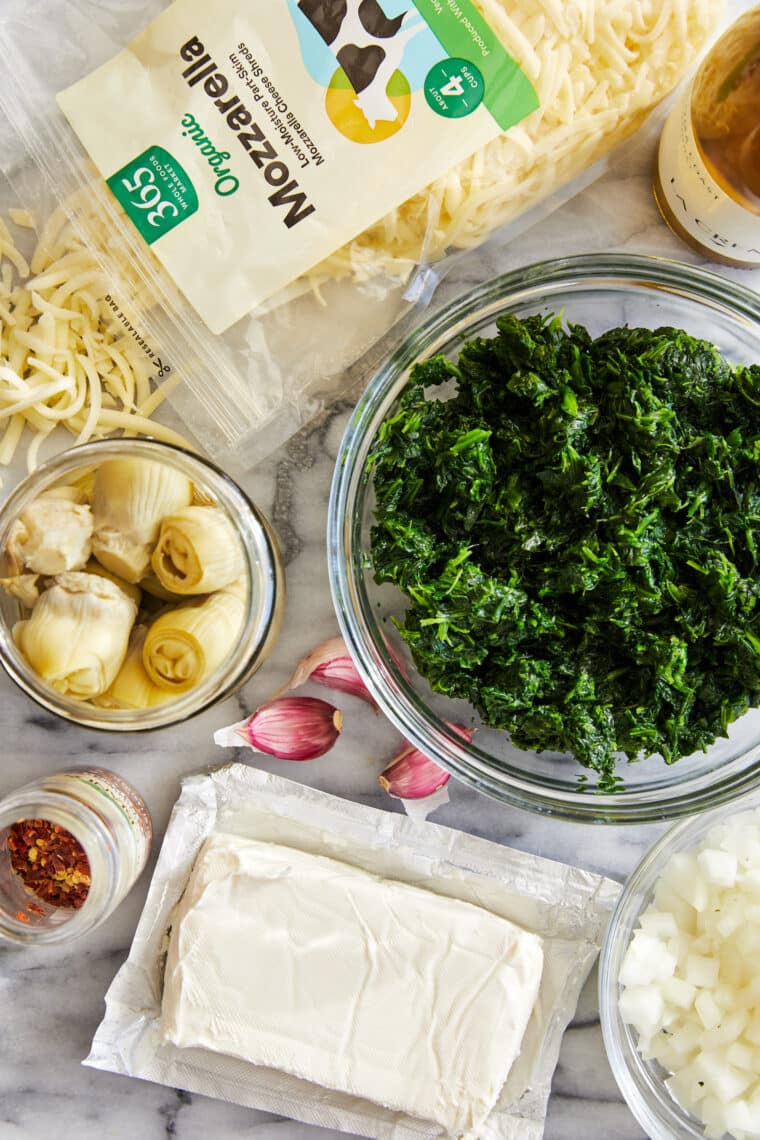 Everything can be cooked/baked right in your cast iron skillet (or another oven-friendly skillet). And you can serve warm directly from the skillet to keep cheesiness at its max.
Promise it's worth it. Just maybe don't touch the hot handle though.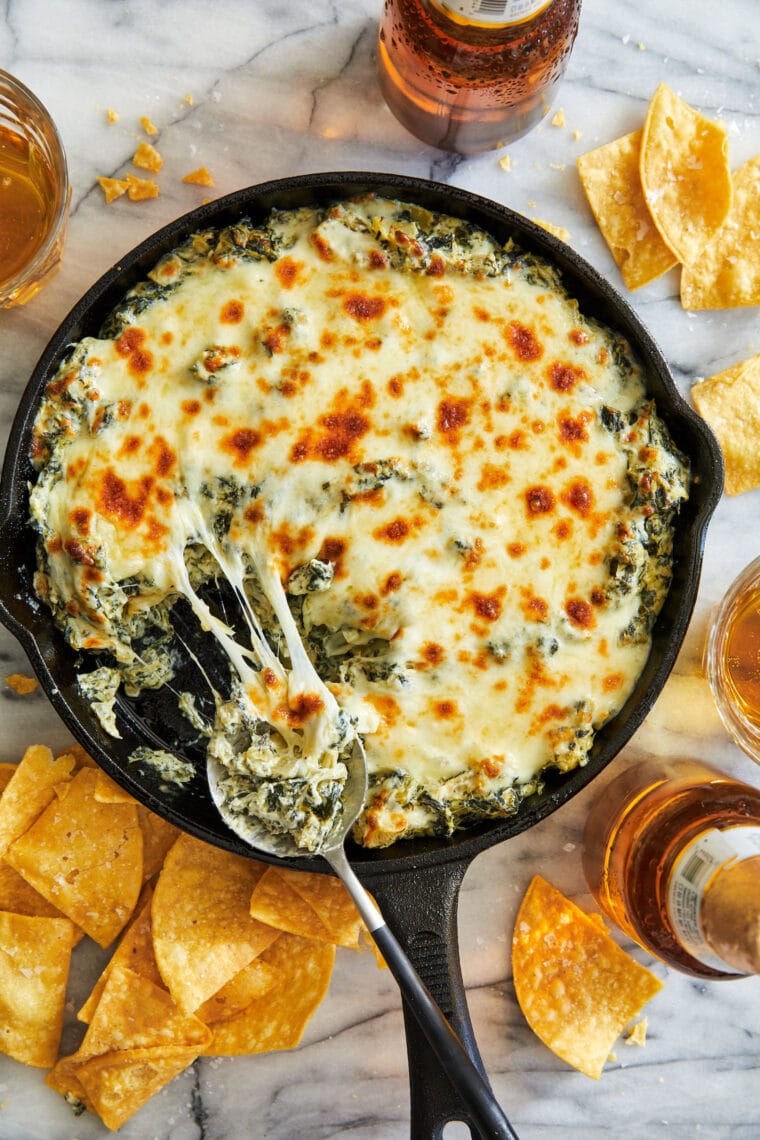 1 tablespoon olive oil
½ medium sweet onion, diced
3 cloves garlic, minced
¼ cup dry white wine
1 (16-ounce) package frozen chopped spinach, thawed and squeezed dry
1 (14-ounce) can artichoke hearts, drained and coarsely chopped
½ teaspoon crushed red pepper flakes
1 (8-ounce) package cream cheese, cubed
1 (8-ounce) container sour cream
½ cup freshly grated Parmesan
Kosher salt and freshly ground black pepper, to taste
1 ½ cups shredded mozzarella cheese
Heat olive oil in a 10-inch cast iron skillet over medium heat.

Add onion and cook, stirring frequently, until translucent, about 2-3 minutes. Stir in garlic until fragrant, about 1 minute.

Stir in wine, scraping any browned bits from the bottom of the skillet.

Str in spinach, artichokes and red pepper flakes until warm and excess liquid has reduced, about 4 minutes.

Stir in cream cheese and sour cream until melted and heated through, about 5 minutes.

Remove from heat. Stir in Parmesan; season with salt and pepper, to taste. Sprinkle with mozzarella.

Preheat oven to broil on high. Arrange an oven rack 6-inches from the broiler.

Place skillet into oven and broil until golden brown and bubbly, about 3-5 minutes.

Serve immediately.