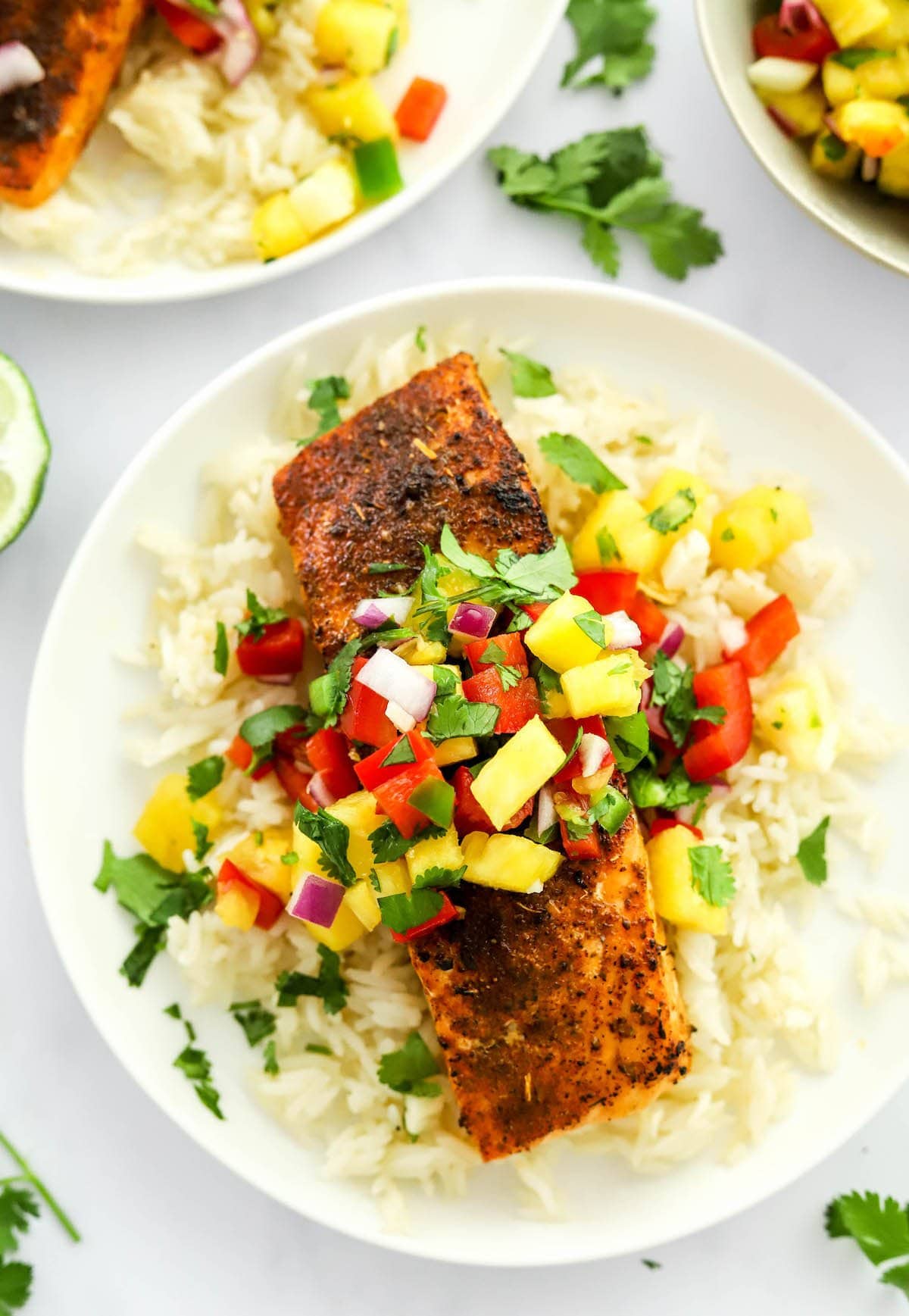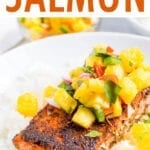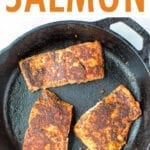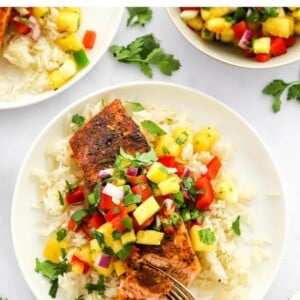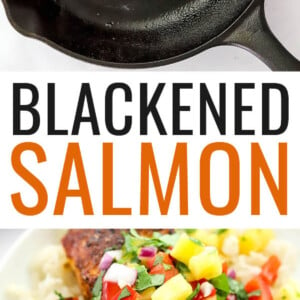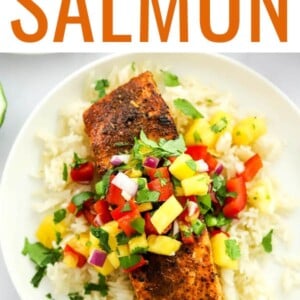 Need a quick and easy salmon recipe? You'll love this flavorful blackened salmon that comes together in less than 20 minutes.
Remember my blackened seasoning recipe and this pineapple salsa? We're bringing things full circle with this recipe because it uses both the seasoning blend and the salsa to create a flavorful blackened salmon dish that's served over rice.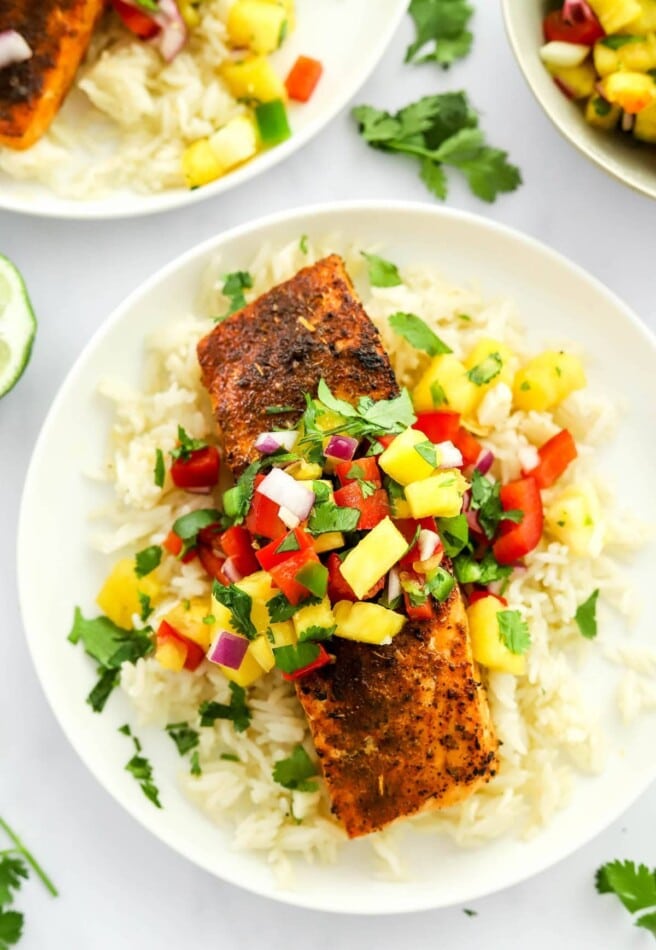 And did I mention that this meal takes only 20 minutes to make if you have your blackened seasoning, pineapple salsa and rice ready to go? Yup, it's such an easy dinner recipe for busy weeknights.
Want to know my secret (not so secret) time saver? I keep cooked frozen rice from Trader Joe's or Whole Foods in the freezer at all times for meals like this. It tastes great and takes only 3 minutes to heat up in the microwave. Easy peasy!
What is Blackened Seasoning?
If you've never had blackened chicken, shrimp, or anything really, I highly recommend it. It changes what could be a bland protein into a flavor explosion in every bite — but without a ton of added fat or calories. It's just a simple spice mixture that takes the dish up 20+ notches.
And there's no need to marinate in advance, so you can make this meal on the fly. More often than I would like to admit, I plan on making a lunch or dinner and realize an hour beforehand that the recipe calls for 8+ hours of marinating. Don't have time for that on the regular!
I easily made my own blackened seasoning at home with just a few simple spices, but you can also use a store-bought mixture like this Old Bay Blackened Seasoning.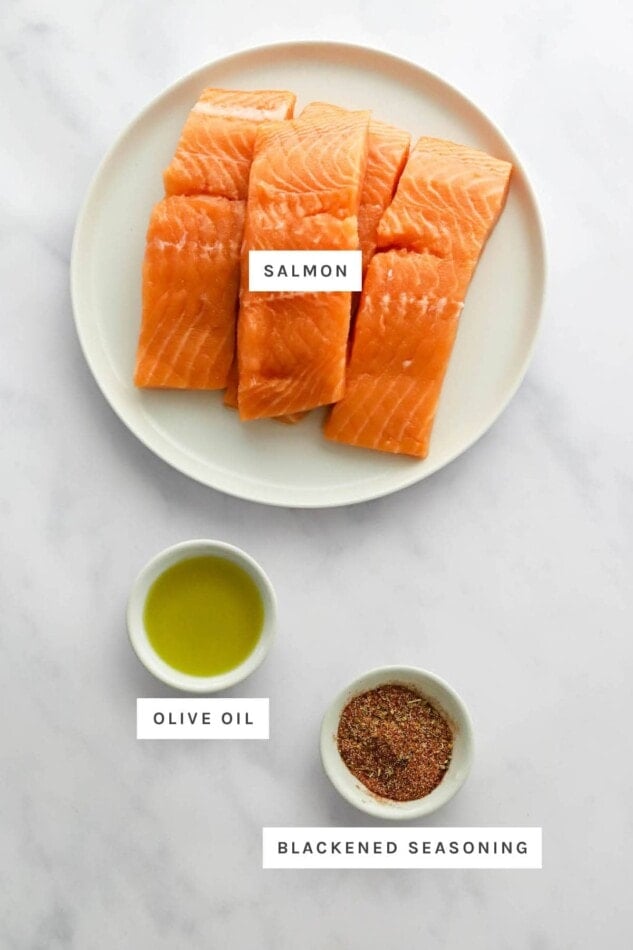 Ingredients Needed
salmon filets – salmon is an incredible food to add to your diet. It's rich in omega-3 fatty acids which our body can't create… aka we have to eat them! Salmon is also a great source of protein, vitamins and minerals and studies have shown it reduces inflammation throughout the body. I recommend getting individual filets from your grocer but don't be afraid of frozen filets, either! Flash-frozen fish can be just as healthy. Just make sure the salmon is thawed if you are using frozen filets.
olive oil or butter – to sauté the salmon in.
blackened seasoning – a tasty blend of paprika, chili powder, garlic powder, sea salt, pepper, cayenne pepper and olive oil.
pineapple salsa – I love topping this salmon with my pineapple salsa. The sweetness from the pineapple pairs perfectly with the spice from the blackened seasoning.
rice – for serving. White, brown or cauliflower rice all make for great options.
How to Make
It doesn't get much easier than this… ready? If you don't have your blackened seasoning mixed already, mix up the spices in a small bowl. Liberally rub the seasoning on the flesh side of each salmon filet.
Heat oil or butter in a large non-stick or cast iron skillet over medium heat. Place the salmon fillets skin-side up in the skillet and cook for about 3 minutes. You know the salmon is ready to flip when the meat releases from the pan easily. Flip so the skin is now on the pan and cook for another 5-7 minutes until salmon is just cooked through. Just be sure not to overcook the salmon! Overcooked salmon is super dry and not very tasty.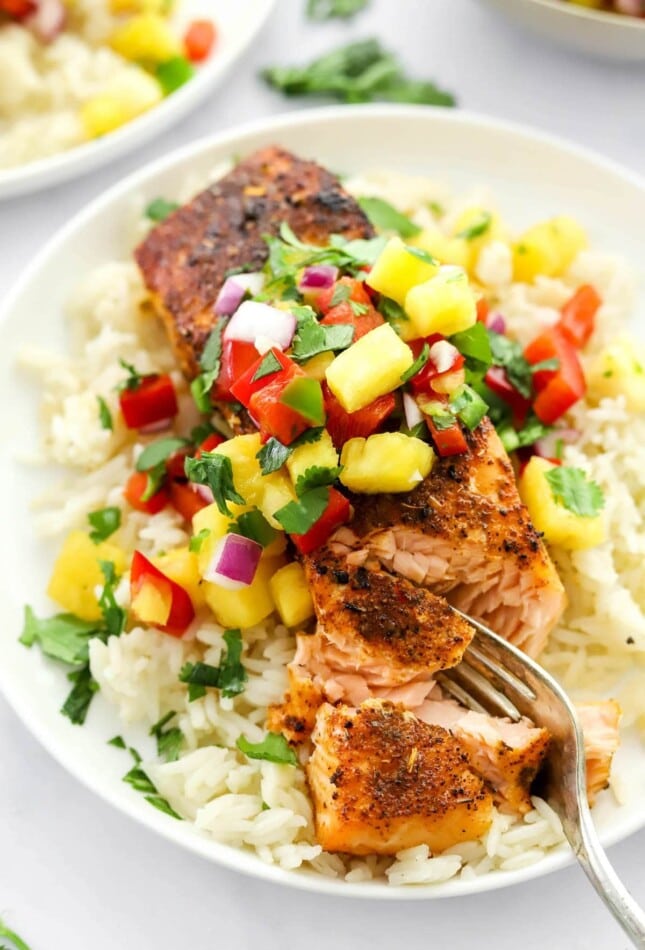 What to Serve with Blackened Salmon
I love serving this salmon with rice and my pineapple salsa because they tame the heat from the blackened seasoning and make for such a refreshing meal. That said, this recipe pairs well with so many different sides. Here are some ideas: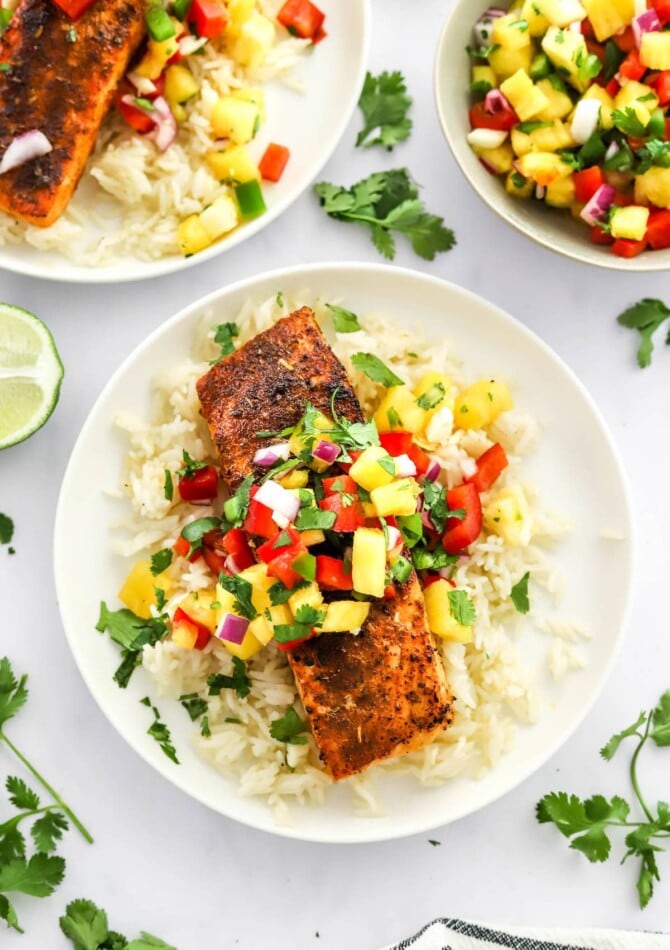 How to Store Leftovers
This salmon will keep fresh in an airtight container in the refrigerator for up to three days. I recommend reheating for a few minutes in the oven or on the stovetop.
More Salmon Recipes to Try
Be sure to check out all of the salmon recipes as well as the full collection of dinner recipes here on EBF!
Blackened Salmon
Need a quick and easy salmon recipe? You'll love this flavorful blackened salmon that comes together in less than 20 minutes.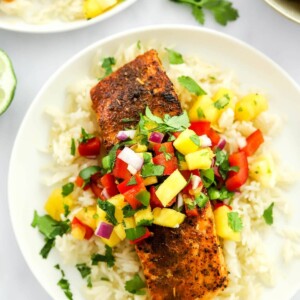 4 6 oz skin-on salmon fillets
1 Tablespoon olive oil or butter
3 Tablespoons blackened seasoning, or cajun seasoning
pineapple salsa, for serving
2 cups white, brown or cauliflower rice, for serving
Make blackened seasoning if needed.

Liberally rub blackened seasoning on the flesh of each salmon fillet.

Heat oil or butter in a large nonstick or cast iron skillet over medium heat. Add the fillets to the skillet, skin-side up, and cook until blackened, about 3 minutes. Flip the fillets and continue to cook until they are cooked to your preference, 5 to 7 minutes depending on the thickness of your fillets.

Serve over rice and top with pineapple salsa.
Serving: 1filet with 1/2 cup white rice Calories: 485kcal Carbohydrates: 30g Protein: 46g Fat: 19g Fiber: 3g Sugar: 2g
DID YOU MAKE THIS RECIPE?
Please leave a comment and star rating on this post and share on social media using the hashtag #eatingbirdfood. I love seeing your recipe shares!
This post may include affiliate links. Thank you for your support.