Recipe courtesy of Jacques Pepin.
I make this extra-simple pasta sauce with zucchini, garlic, salt, pepper, and olive oil. The combination of vegetables and cooking liquid creates a rich, satisfying, colorful pasta sauce that is not too high in calories.
10
c.

water
6
oz.

farfalle (bow-tie pasta)
2

small zucchini
3
tbsp.

virgin olive oil
8

clove garlic
1/2
tsp.

salt
1/4
tsp.

Freshly ground black pepper
2
tbsp.

grated Parmesan cheese
Bring the water to a boil in a large saucepan. Add the farfalle, bring back to a boil, and boil for 13 to 15 minutes, until done as desired.
Meanwhile, wash and trim the zucchini, cut them in half crosswise, and then cut them lengthwise into 1/4-inch slices. Stack the slices, and cut them lengthwise into 1/4-inch sticks that are 2 1/2 to 3 inches long. (You should have 2 cups.)
Heat the oil in a skillet. When hot, sauté the zucchini sticks over high heat for 4 minutes, until lightly browned and cooked through. Add the garlic, and sauté for 30 seconds longer.
When the pasta is cooked, remove 1/3 cup of the cooking liquid, and place it in a bowl large enough to hold the pasta. Drain the pasta through a colander, and add it to the bowl. Add the zucchini, salt, and pepper, and toss to combine.
Serve with the grated cheese.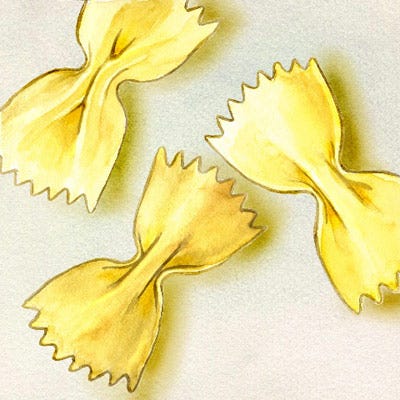 Illustration by Michael Toland
This content is created and maintained by a third party, and imported onto this page to help users provide their email addresses. You may be able to find more information about this and similar content at piano.io