Recipe courtesy of Marcia Kiesel.
1
c.

brown rice
1/4
c.

wild rice
3/4
c.

freshly grated Parmesan cheese
salt
Freshly ground pepper
Bring a large saucepan of water to a boil. Add both the brown rice and the wild rice to the boiling water, cover, and cook over low heat until the rice mixture is very soft, about 55 minutes. Drain the rice mixture and spread it on a platter, then let cool completely.
In a food processor, pulse the cooled rice mixture until it is coarsely chopped and sticky. Scrape the chopped rice mixture into a large bowl and stir in the grated Parmesan cheese until well blended. Season the rice mixture with salt and pepper.
Preheat the oven to 450 degrees F. Line a large cookie sheet with parchment paper. Scoop 1/2 cup of the rice mixture onto one half of the prepared cookie sheet and pat it into a disk. Cover the rice disk with plastic wrap, then press or roll it out to a very thin 7-by-10-inch rectangle. Repeat on the other half of the cookie sheet.
Bake the rice crisps in the lower third of the oven for about 12 minutes, or until they are crisp and golden brown. Using a spatula, carefully transfer the parchment paper with the crisps to a wire rack and let the crisps cool completely. Repeat with the remaining rice.
Make Ahead: The rice crisps can be stored at room temperature in an airtight container, layered between sheets of wax paper, for up to 2 days. Recrisp on a baking sheet in a 350 degrees F oven if necessary.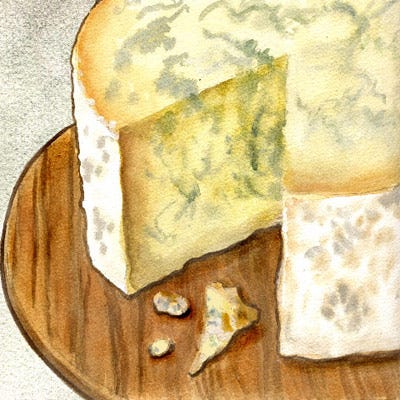 Illustration by Michael Toland
This content is created and maintained by a third party, and imported onto this page to help users provide their email addresses. You may be able to find more information about this and similar content at piano.io
Wanna save this recipe?
Create an account and you'll be able to save and revisit your recipes, leave reviews, and more. It's free!