This easy pizza will have the whole family begging for more veggies, please!
Cal/Serv:
435
Yields:

4
Prep Time:

0

hours

15

mins


Cook Time:

0

hours

23

mins


Total Time:

0

hours

38

mins


1
tbsp.

olive oil
1
tsp.

olive oil
1 1/2
c.

shredded carrots
1

medium zucchini
1
c.

jarred marinara sauce
salt
Pepper
1

bag baby spinach
1
lb.

fresh or frozen (thawed) pizza dough
1 1/4
c.

shredded part-skim mozzarella cheese
Preheat oven to 450 degrees F. Grease 15 1/2-inch by 10 1/2-inch jelly-roll pan with 1 tablespoon olive oil.
In 12-inch nonstick skillet, heat remaining 1 teaspoon oil on medium 1 minute. Add carrots; cook 6 to 8 minutes or until tender, stirring occasionally. Stir in zucchini, marinara sauce, 1/4 teaspoon salt, and 1/8 teaspoon freshly ground black pepper; cook 3 to 4 minutes. Add spinach; cook, covered, 1 to 2 minutes to wilt. Remove from heat.
With fingers, pat dough onto bottom and up sides of prepared pan. Spoon vegetable mixture over dough; top with mozzarella. Place pan on rack in lower third of oven. Bake pizza 22 to 24 minutes or until topping is hot and bubbly and crust is browned.

Nutritional information is based on one serving.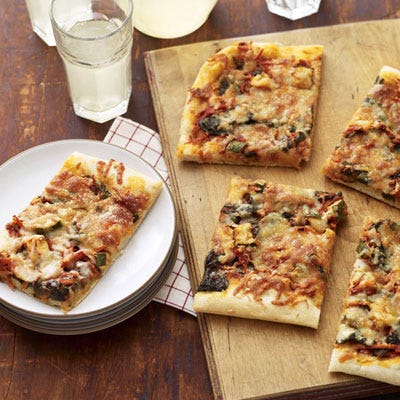 Kate Mathis
This content is created and maintained by a third party, and imported onto this page to help users provide their email addresses. You may be able to find more information about this and similar content at piano.io