A sweet and spicy orange sauce seasoned with hot pepper flakes and honey gives this chicken and vegetable stir-fry a serious kick of flavor.
Sauce:
3/4
c.

orange juice
1/4
c.

honey
2
tbsp.

low-sodium soy sauce
1
tbsp.

cornstarch
1
tsp.

grated orange zest
1/2
tsp.

hot red pepper flakes
Stir-Fry:

c.

all-purpose flour
1/4
c.

whole-wheat breadcrumbs
2

egg whites
1
lb.

boneless, skinless chicken breasts
2
tbsp.

canola oil
2
tsp.

minced garlic
2
c.

broccoli florets
1
c.

sugar snap peas
1
c.

sliced mushrooms
1

red bell pepper
1

bunch baby bok choy
1

can water chestnuts
1
c.

shredded carrots
1/4
c.

sliced, toasted almonds
1/4
c.

crispy Chinese egg noodles
Combine sauce ingredients.
In a pie plate, combine flour and breadcrumbs. In a medium bowl, beat egg whites. Toss chicken pieces in egg whites, then in flour mixture to coat.
In a large nonstick skillet or a wok, heat 1 tablespoon of the oil over medium-high heat. Add chicken and cook 4 to 5 minutes, until browned all over; remove from skillet.
Add remaining 1 tablespoon oil to skillet. Add garlic and all vegetables except carrots and stir-fry about 3 minutes. Add carrots and stir-fry 30 seconds. Pour sauce into skillet and stir-fry until sauce thickens, about 2 minutes. Add chicken back to skillet and stir-fry 1 minute, until chicken and vegetables are coated with sauce. Remove from heat; sprinkle with almonds and noodles. Serve with steamed rice (3/4 cup cooked rice per serving).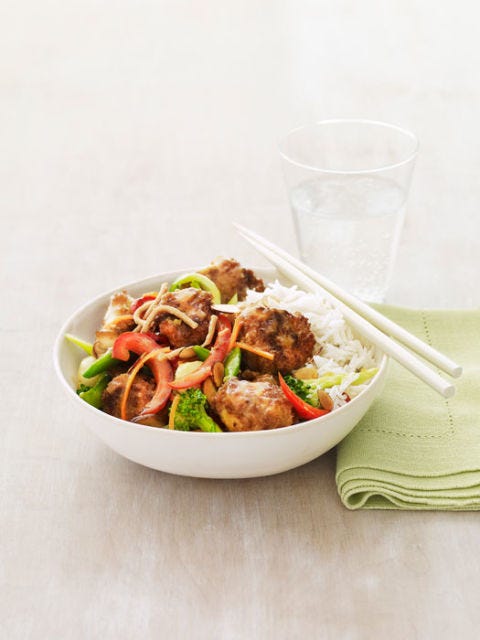 Tina Rupp
This content is created and maintained by a third party, and imported onto this page to help users provide their email addresses. You may be able to find more information about this and similar content at piano.io