Gravy panic is solved with this recipe. Make it ahead of time to avoid the last-minute scramble before dinner.
Yields:

8

cups


Prep Time:

0

hours

15

mins


Cook Time:

3

hours

15

mins


Total Time:

3

hours

30

mins


6
lb.

turkey wings
3

onions
1
c.

Madeira
12
c.

low-sodium chicken broth
1
lb.

carrots
6

ribs celery
6

clove garlic
1/2
c.

all-purpose flour
1/2
tsp.

Black pepper
kosher salt
Heat oven to 400 degrees F. Put wings in a single layer in a large roasting pan; scatter onions on top. Roast 1 1/2 hours, turning wings once, until golden brown.
Transfer wings and onions to an 8-quart pot. Pour fat from roasting pan into a gravy separator; pour off juices and reserve. Pour off 1/2 cup of rendered fat and reserve.
Place roasting pan across 2 stovetop burners over medium heat. Add Madeira, scraping up browned bits. Boil 2 minutes, then add to pot with reserved juices, 10 cups of the broth, carrots, celery, and garlic. Bring to a boil; simmer 1 1/2 hours.
Meanwhile, heat reserved fat in a saucepan over medium heat. Slowly whisk in flour until smooth. Cook mixture 7 minutes, whisking until light brown. Whisk in remaining 2 cups broth until a thick gravy base forms. Remove from heat. Place plastic wrap directly on gravy surface; keep at room temperature.
Remove wings from pot; discard. Strain broth from pot through a sieve into a large saucepan and skim off any fat from surface. Bring to a gentle boil; gradually whisk in reserved gravy base. Simmer 8 minutes, until slightly thickened. Stir in pepper. Cool to room temperature, then pour into freezer containers. Freeze up to 2 months. One day before using, thaw in refrigerator.
To finish gravy on Thanksgiving, skim and discard any fat on surface of thawed gravy. Reheat, add drippings from newly roasted turkey (if desired), adjust seasonings, and serve.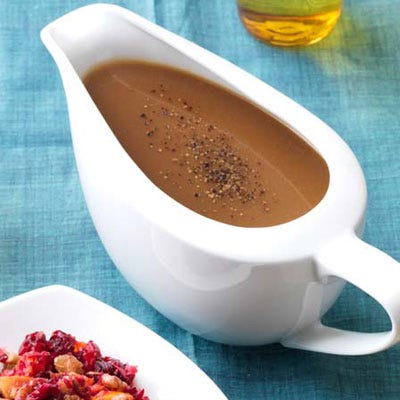 Johnny Valiant
This content is created and maintained by a third party, and imported onto this page to help users provide their email addresses. You may be able to find more information about this and similar content at piano.io