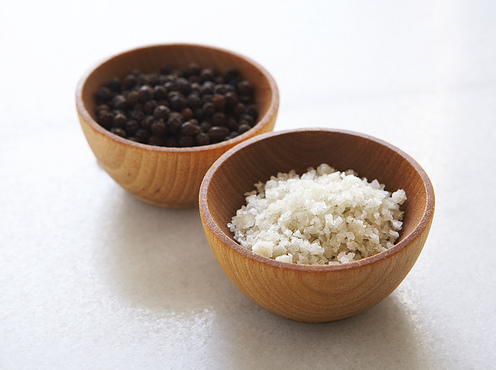 Makes6 servings
Cooking Methodroasting
CostInexpensive

Total Timeunder 1 hour
Kid FriendlyYes
OccasionCasual Dinner Party, Cooking for a date
Recipe Coursemain course
Five Ingredients or LessYes
Mealdinner
Moodromantic, stressed, tired
Taste and Texturejuicy, meaty, savory
Ingredients
5-pound

pork loin

, trimmed and tied

Salt

, freshly ground black pepper
1 teaspoon

dried thyme

1 cup chicken or veal stock
Instructions
Rub the loin well with salt, pepper, and thyme. Place fat side up on a rack in a roasting pan and roast in a 425° oven for 25 to 30 minutes a pound, until the internal temperature registers 160° on a meat thermometer. Remove from the oven and let rest for 10 minutes before carving.

Roast Pork Loin with Garlic. Insert 2 or 3 slivered garlic cloves in the meat before rubbing it with seasonings. Halfway through the roasting, baste with red wine and continue basting until cooked. Serve with sautéed onions and tiny new potatoes.

Roast Pork Loin Flambé. Roast as for Roast Pork Loin with Garlic. When cooked, remove to a hot platter and flame with ¼ cup warmed cognac. Skim excess fat from pan juices and serve as a sauce.

Roast Pork Loin with Rosemary. Rub the loin with garlic, salt, and rosemary, pressing the seasoning well into the meat. Put a few rosemary leaves or sprigs in the roasting pan. When the roast is done, remove it to a hot platter and skim the excess fat from the pan juices. Add ¼ cup dry white wine and ½ cup heavy cream, and season to taste with salt and pepper. Cook and blend for a few minutes and serve with the roast. With this have roast potatoes and spinach dressed with oil and lemon juice, or a puree of spinach.

Roast Pork Loin Marinated Oriental Style. Rub the loin with garlic. In a bowl, make a marinade with 2/3 cup Japanese soy sauce, 2/3 cup dry sherry, 2 or 3 finely chopped garlic cloves, and 2 tablespoons chopped fresh ginger. Turn roast in the marinade and marinate for 3 to 4 hours, turning frequently. During roasting, baste frequently with the marinade. Serve with broiled pineapple and a barley casserole.

Roast Marinated and Glazed Pork Loin. Have the loin boned and tied. Rub well with dry mustard and thyme. Marinate as above, and roast. Melt 8 ounces of apple or currant jelly and add a tablespoon of soy sauce and 2 tablespoons dry sherry. Cook down for a minute or two, stirring contantly. When the loin is done, remove it from the oven and spoon this glaze over it. Cool at room temperature. Serve cool, but not chilled, with applesauce mixed with horseradish to taste, and a rice salad.

Orange-Glazed Roast Pork Loin. Insert garlic slivers in the loin and rub with salt and crushed rosemary; roast. Halfway through the roasting time, baste with thawed, undiluted concentrated orange juice. Roast 30 minutes more and then spread the pork with bitter-orange marmalade. Roast 30 minutes, baste again with concentrated orange juice, and spread with more marmalade. Roast until done. Transfer the pork to a serving platter, skim fat from the pan juices, and combine with 1 cup orange sections and ½ cup fresh orange juice. Season to taste. Serve the roast loin with this orange sauce, a puree of yams or parsnips and a chicory or endive salad.

Pork Loin Roasted with Green Peppercorn Butter. Have the loin of pork boned and tied. Crush 1 1/3 tablespoons fresh green peppercorns in a mortar and pestle with 1 garlic clove and 1 teaspoon ground cinnamon. Work in ½ cup sweet butter and, when thoroughly mixed, a scant teaspoon salt. With your fingers push this green peppercorn butter into the spaces where the meat is tied together, and spread a thin layer of the butter over the top of the roast. After roasting, remove from the pan and spread more butter on top. Leave at room temperature until tepid. Serve at this temperature with a French potato salad dressed with oil and vinegar.

Pork Loin Roasted with Coriander and Fennel. Rub the loin with ground sage, ground coriander, allspice, and freshly ground black pepper, and run a dried fennel stalk through the length of the meat (pierce a hole first with a larding needle or heavy skewer). When roasted, remove from the pan, add 4 tablespoons flour to make a roux and cook over medium heat, gradually stirring in 1 cup veal or chicken stock until thickened. Add ½ to 1 cup heavy cream and season to taste with salt and pepper. If available, add a little chopped fresh coriander to the sauce. Serve with roasted potatoes.

Prune-Stuffed Roast Pork Loin. Soak 2 pounds large pitted prunes in 1 cup dry sherry for 12 hours. Make 2 long incisions in the fleshiest part of the meat, almost to the bone. Stuff incisions with prunes, pressing them in with the handle of a wooden spoon. Reshape roast and tie with string. Rub with salt and roast, basting occasionally with pan juices mixed with sherry from soaked prunes.

Prune-Stuffed Roast Pork Loin with Potatoes and Onions. Roast as above, adding parboiled small white onions and potatoes to the pan for the last hour of cooking time. Skim fat from pan juices. Thicken juices with flour and stir in heavy cream to make a sauce.
1981 James Beard
YOUR RECENTLY VIEWED RECIPES
Free recipes, giveaways, exclusive partner offers, and more straight to your inbox!

Report Inappropriate Comment
Are you sure you would like to report this comment? It will be flagged for our moderators to take action.
Thank you for taking the time to improve the content on our site.