Pretty sure we can crush a full bouquet of these. 😍
Yields:

12
Prep Time:

0

hours

15

mins


Total Time:

0

hours

40

mins


1

8-oz. tube crescent dough
1/4
c.

pizza sauce
1
c.

shredded mozzarella
1/2
c.

freshly grated Parmesan
1
c.

large pepperoni slices
1
tsp.

Italian seasoning
Preheat oven to 375° and spray a muffin tin with cooking spray.
On a lightly floured surface, unroll crescent dough and separate into 4 rectangles. If the dough has perforated edges, pinch together to seal.
Using a pizza cutter, cut each rectangle of dough lengthwise into three 1"-wide strips. Spread a very thin layer of sauce onto each strip. Sprinkle with cheeses, then layer pepperoni on top half of each strip so that they're slightly overlapping and the top halves of the pepperoni slices are off the pastry. Fold up bottom half of dough and tightly roll.
Transfer to prepared muffin tin and bake until golden, 15-20 minutes.
Serve warm.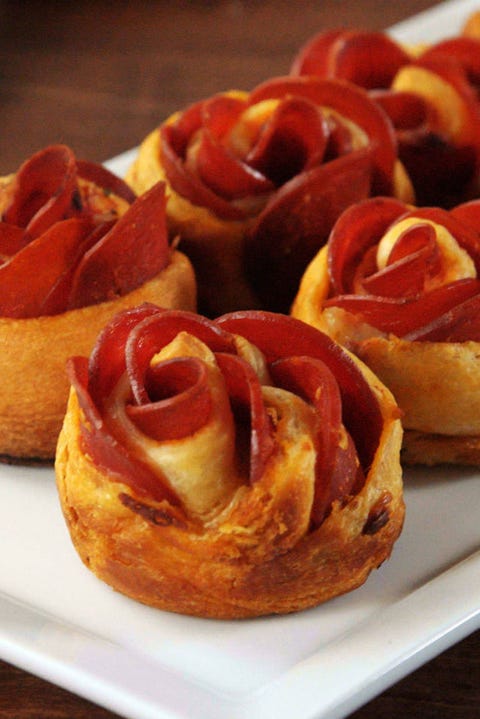 Chelsea Lupkin
Lauren Miyashiro
Food Director
Lauren Miyashiro is the Food Director for Delish.com.
This content is created and maintained by a third party, and imported onto this page to help users provide their email addresses. You may be able to find more information about this and similar content at piano.io