Beignets — French for "fritters" — first appeared in our pages in 1969, but the puffed, powdered donut has been a New Orleans breakfast basic since the 1800s. Although the custom in the Crescent City is deep-frying, we call for baking, which saves time and calories. The easy espresso-chocolate dipping sauce gives the pillow-shaped pastries a caffeinated, Creole kick.
Cal/Serv:
260
Yields:

12
Total Time:

1

hour

10

mins


Beignets
1/4
c.

warm water (105° to 115°)
1

package quick-rising active dry yeast
1/4
c.

granulated sugar
3
c.

all-purpose flour
1 1/2
tsp.

baking powder
1/2
tsp.

baking soda
1/2
tsp.

salt
4
tbsp.

cold butter or margarine
3/4
c.

low-fat buttermilk
1

large egg
1/4
c.

confectioners' sugar
Café au Lait Dip

c.

granulated sugar
2
tbsp.

instant espresso powder
1
tsp.

instant espresso powder
1
tbsp.

cornstarch
1
tsp.

cornstarch
2
c.

whole milk
1 1/2
oz.

unsweetened chocolate
Prepare Beignets: Place warm water in small bowl; sprinkle with yeast and 1 teaspoon granulated sugar. Stir and let stand until foamy, about 5 minutes.
In large bowl, stir flour, baking powder, baking soda, salt, and remaining granulated sugar until combined. With pastry blender or 2 knives used scissors-fashion, cut in butter until mixture resembles fine crumbs. With fork, stir buttermilk and egg into yeast mixture until blended. Make well in flour mixture; pour in yeast mixture. Stir until combined and soft dough forms.
On lightly floured work surface, knead dough lightly several times until dough is smooth. Spray same bowl (no need to clean) with nonstick cooking spray and place dough in bowl. Cover with plastic wrap; let stand 10 minutes.
Spray 2 large cookie sheets with nonstick cooking spray. Punch down dough. On floured work surface, with floured rolling pin, roll dough to 9-in. square. With floured chef's knife, cut dough into 6 strips, then cut each strip into 6 pieces, making 36 (1½-in.) square pieces. Transfer Beignets to prepared cookie sheets, placing about 1½ inches apart. Spray sheet of plastic wrap with nonstick cooking spray; cover beignets with wrap, sprayed side down. Let rise 20 minutes.
While Beignets are rising, prepare Café au Lait Dip: In 3-quart saucepan, with wire whisk, combine granulated sugar, espresso powder, and cornstarch. Whisk in milk. Cook on medium 8 minutes or until mixture comes to a boil and thickens slightly, whisking. Reduce heat to low and simmer 2 minutes, whisking. Remove pan from heat. Add chocolate to pan and whisk until melted and smooth; cover and set aside. Makes 1 3/4 cups.
Preheat oven to 400°F. Bake Beignets 10 to 12 minutes, or until golden brown, rotating sheets between upper and lower racks halfway though baking. While Beignets are hot, toss with confectioners' sugar. Rewarm dip if necessary. Serve Beignets warm with warm Café au Lait Dip.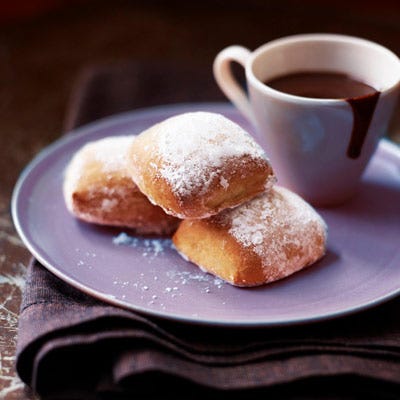 Con Poulos
This content is created and maintained by a third party, and imported onto this page to help users provide their email addresses. You may be able to find more information about this and similar content at piano.io