Small, firm pears are rendered into submission by poaching them in a sweet broth of water, sugar and lemon slices, then served up cold with a mix of thick raspberry and vanilla sauces.
Cal/Serv:
316
Yields:

6
Prep Time:

0

hours

25

mins


Total Time:

0

hours

50

mins


Poached Pears:
6

small ripe, firm pears with stems
1
tbsp.

lemon juice
1
c.

sugar
3

slice lemon
Raspberry Sauce:
12
oz.

fresh or unsweetened frozen raspberries
1/2
c.

sugar
Vanilla Sauce:
1
c.

vanilla ice cream
Garnish: 6 mint sprigs
Have ready a pot large enough to hold pears upright.
Poach Pears: Half-fill a large bowl with cold water. Stir in lemon juice. Peel pears, leaving stems on. Add to bowl to prevent browning.
Bring 3 cups water, the sugar and lemon slices to boil in pot. Add pears, reduce heat, cover and simmer 20 to 25 minutes until tender when pierced at bottom.
Cool in pot (discard lemon); refrigerate in syrup until cold.
Make Raspberry Sauce: Stir berries through a strainer to make a seedless purée. Stir in sugar.
To serve: Pierce a hole in top of pears; insert mint. Spoon Raspberry Sauce on one side of each of 6 dessert plates, Vanilla Sauce on other side. With a pick, draw a spiral through both sauces. Set pear in center.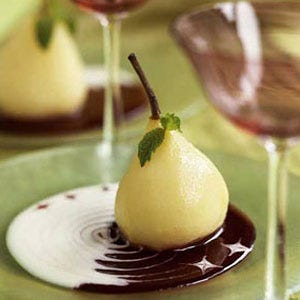 Jacqueline Hopkins
This content is created and maintained by a third party, and imported onto this page to help users provide their email addresses. You may be able to find more information about this and similar content at piano.io