This Crockpot Chicken Wild Rice Soup is so darn simple to make and goes perfectly with a piece of crusty bread on a cold winter night.
I adore this soup.
It's not really a secret because a) I'm from Minnesota, the homeland of things like creamy delicious Wild Rice Soup, b) I've only posted it at least seventeen other times on the blog, and c) WILD RICE.
So this time the thing that makes it special is the Crockpot. This is Chicken Wild Rice Soup meets Chicken Bacon Wild Rice Soup mashing up into Crockpot Chicken Wild Rice Soup. Translation: life just got easy and I'm going to go watch Breaking Bad now while my dinner cooks in a large kitchen appliance without my supervision thank you very much.
By the way, I don't watch Breaking Bad yet but I'm 99% sure that I'm going to start today. Yay or nay?
How To Make Our Chicken Wild Rice Soup: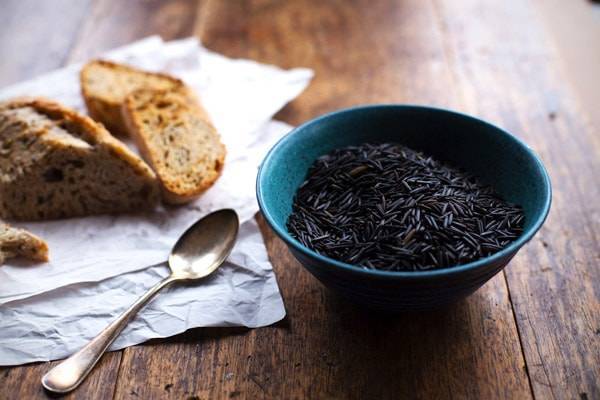 This is a perfect meal for the current state of our new kitchen. I want to tell you about our new kitchen in our new house, which I feel like I should mention is a foreclosure. So give her some extra compassion, okay?
It's, um, how do I say this? Small.
Small = less stuff = maybe even a little bit freeing.
Small = less distance to walk to get to things and fewer places to clean. Just saying.
It has a real live window and I have my photography table set up in the kitchen. Never before, guys. THIS IS AMAZING.
It has a jumbo, awkward, 1980's fridge and I bump into it at least eighty times a day.
The stove is gas. It says the word CALORIC on the panel. So thanks for that.
It has a window. Actually, two. Did I already say that? Hiphiphooray!
It has a big sink that holds lots of dirty dishes and keeps them out of sight.
It has a non-functional garbage disposal. Oh well?
It is begging for a remodel. We are in the fun planning phase where we make 3D blueprints to see what it will look like when we knock the ol' kitchen wall down and make it my small dream kitchen. ♥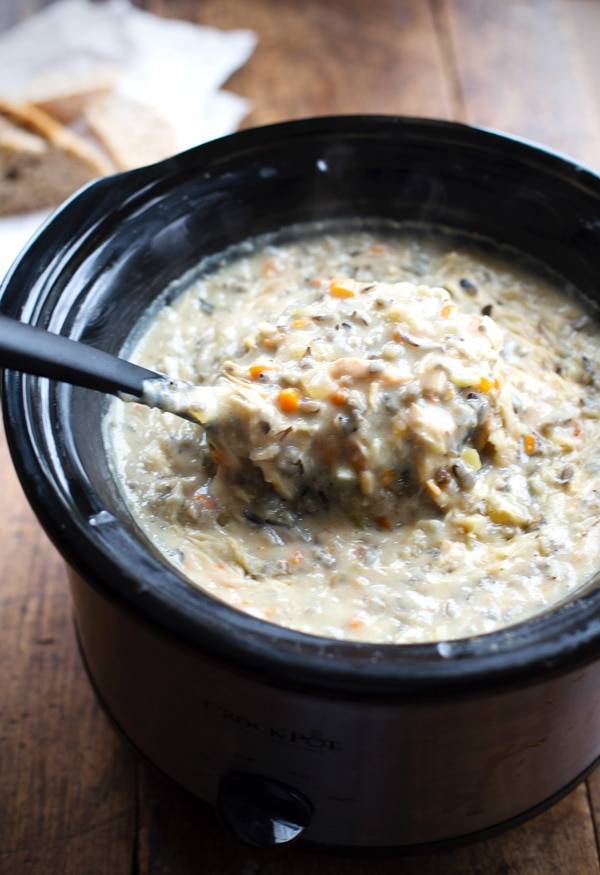 Back on topic. I was saying that this is perfect for the current state of our small kitchen because we don't have everything all in order just yet. For example, I burned the Thanksgiving corn pudding because my oven was playing tricks on me, and no, it had nothing to do with Bjork hearing 475 instead of 425. And for another example, I keep forgetting boxes of kitchen stuff at our other house so I made frosting yesterday with a whisk attached to a drill. A DRILL. oh my gosh, I mean, really. What are we coming to?
But when everything else is chaotic, my steady and true Crockpot friend gives some stability and cooks us the most cozy, comforting dinner while I'm at work and making yet another run to the old house for the box with the hand mixer in it.
Crusty bread, this piping hot soup in a large bowl, and extra time on your hands. TIS THE SEASON FOR THAT.
Print
Description
This Crockpot Chicken Wild Rice Soup is so darn simple to make and goes perfectly with a piece of crusty bread on a cold winter night.
---
1 cup

uncooked wild rice

1

pound chicken breasts

2 cups

mirepoix (chopped celery, carrots, and onions)

6 cups

chicken broth

1 teaspoon

poultry seasoning

1/2 cup

butter

3/4 cup

flour

2 cups

whole milk
a few tablespoons white wine (optional)
up to

2 cups

additional milk or water
---
Rinse the wild rice. Place the uncooked wild rice, raw chicken, mirepoix, chicken broth, and poultry seasoning in a crockpot. Cover and cook on low for 7-8 hours. The chicken should be cooked through and the rice should be soft. There will be extra liquid in the crockpot; do not drain.
Remove the chicken breasts from the crockpot and allow to cool slightly. Using two forks, shred the chicken. Return the shredded chicken to the crockpot.
When rice and chicken are done cooking, melt the butter in a saucepan. Add the flour and let the mixture bubble for 1 minute. Slowly whisk in the whole milk until a thick, creamy mixture forms. Stir in the wine.
Add this to the rice and chicken in the crockpot and stir to combine. Add extra water or milk to adjust the consistency as you like it. Season with additional salt and pepper.
Notes
The poultry seasoning is a mix of several things, including thyme and sage. Even though it's only a teaspoon, do not omit this because it adds a lot of the flavor. If you don't have any, just use any other herb seasonings that you like. Thyme and sage are the best in my opinion.
Category:

Dinner

Cuisine:

American
Keywords: crockpot wild rice soup, chicken wild rice soup, wild rice soup
Recipe Card powered by
---
One More Thing!
This recipe is part of our all-star slow cooker recipes page. Check it out!