This is the most patriotic pie we've ever seen.
Yields:

6
– 8
Prep Time:

0

hours

15

mins


Total Time:

0

hours

30

mins


1
c.

pizza sauce
4

large flour tortillas
3
c.

shredded mozzarella
2
c.

pepperoni
2

slices mozzarella
1
c.

chopped black olives
Preheat oven to 350° and line a large baking sheet with parchment paper. Working on the baking sheet, spread a thin layer of pizza sauce onto two tortillas then top each with a thin layer of shredded mozzarella and pepperoni.
Place the remaining two tortillas on top. Spread another layer of pizza sauce onto each quesadilla then cover each entirely with mozzarella.
Make a large ring of pepperoni, overlapping the slices, around the quesadilla, then make a smaller ring of pepperoni inside.
Using a star cookie cutter, arrange black olives in a star shape.
Bake for 15 minutes, or until cheese is melted.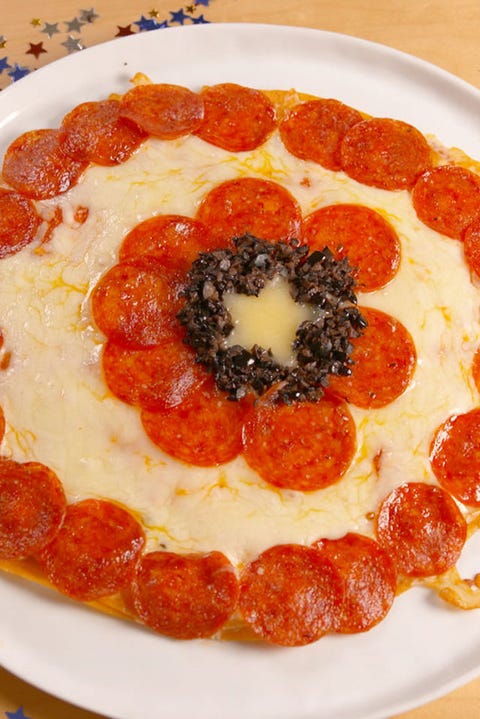 John Komar
Lauren Miyashiro
Food Director
Lauren Miyashiro is the Food Director for Delish.com.
This content is created and maintained by a third party, and imported onto this page to help users provide their email addresses. You may be able to find more information about this and similar content at piano.io