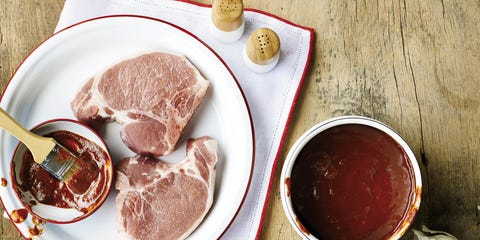 David Malosh
Yields:

1

serving


Total Time:

0

hours

30

mins


BARBECUE SAUCE:
1 1/2

C marinara sauce
3/4

C apple cider vinegar
1/2

C molasses
1

canned chipotle pepper, minced, plus 2 tbsp adobo sauce from can
2
tbsp.

dijon mustard
2
tbsp.

chili powder
1
tbsp.

sweet paprika
2

cloves garlic, minced
1/4
tsp.

crushed red-pepper flakes
PORK CHOPS:
4

bone-in, center-cut pork chops (8 oz each
Prepare sauce: Combine all sauce ingredients in medium saucepan and bring to a simmer over medium-high heat. Reduce heat to low and simmer until thickened slightly, about 10 minutes. Reserve 3/4 cup for basting chops and 3/4 cup for dipping.
Prepare pork chops: Coat grill or grill pan with cooking spray and prepare for medium-high heat. Meanwhile, season chops on both sides with 1/8 tsp each salt and black pepper. Sear on grill, about 2 minutes per side. Reduce heat to medium and brush both sides of each chop with sauce. Continue grilling until internal temperature reaches 145F about 4 minutes per side. Remove from grill and let stand on platter, covered, about 3 minutes before serving. Serve each chop with extra sauce as desired.
This content is created and maintained by a third party, and imported onto this page to help users provide their email addresses. You may be able to find more information about this and similar content at piano.io