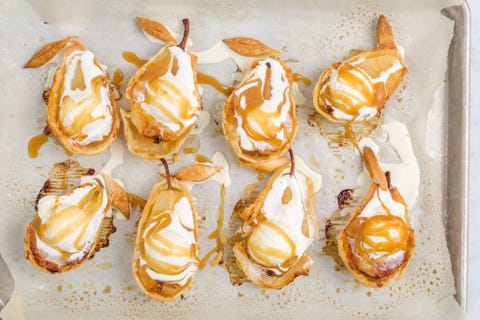 Ethan Calabrese
Apples, it was nice meeting you, but pie crust-covered pears are where it's at.
Yields:

8
Prep Time:

0

hours

20

mins


Total Time:

0

hours

40

mins


8
large pears
1
lb.


refrigerated pie crust
8
scoops vanilla ice cream
Caramel, for drizzling
Preheat oven to 350°. Peel and halve pears (leave stem intact), then use a melon baller to scoop out seeds and a small hole. Place on a parchment-lined baking sheet face down (round side up).
Roll out pie crust into 1/4″-thick sheets, then divide into squares large enough to fit over a pear half. Cover pear with pie crust, then use a small knife to cut around the edges of the pear.
Use a knife to make small slits on the pear. Form excess crust into small leafs and pinch them to the top of the pears (to make them more secure, brush leaf with a little milk). Repeat with remaining pears.
Bake until pie crust is golden and juice is bubbling out from pears, about 20 minutes.
Let cool, then flip and top with a scoop of vanilla ice cream and drizzle with caramel.
This content is created and maintained by a third party, and imported onto this page to help users provide their email addresses. You may be able to find more information about this and similar content at piano.io