Create your own slurp-worthy pho at home by boiling rice noodles in beef broth with spinach and basil leaves and topping the mix with deli roast beef, scallions and a drizzle of chili garlic sauce.
Cal/Serv:
339
Yields:

4
Prep Time:

0

hours

5

mins


Total Time:

0

hours

15

mins


4

can low-sodium beef broth
6
oz.

rice noodles
1

package baby spinach
1
c.

fresh basil leaves
8
oz.

thinly sliced deli roast beef
1

scallion
2
tsp.

chili garlic sauce or chili oil (optional)
Lime wedges, for serving
Bring the broth to a boil in a large pot. Add the noodles and simmer until just tender, 4 to 5 minutes.
Remove from heat and stir in the spinach, basil.
Divide the roast beef among bowls and ladle the soup over the top. Sprinkle with the scallions and drizzle with the chili sauce (if using). Serve with the lime wedges, if desired.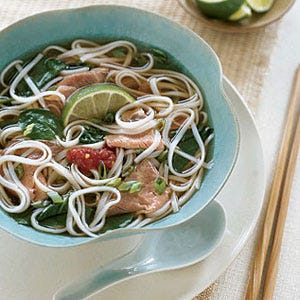 Laura Moss
This content is created and maintained by a third party, and imported onto this page to help users provide their email addresses. You may be able to find more information about this and similar content at piano.io