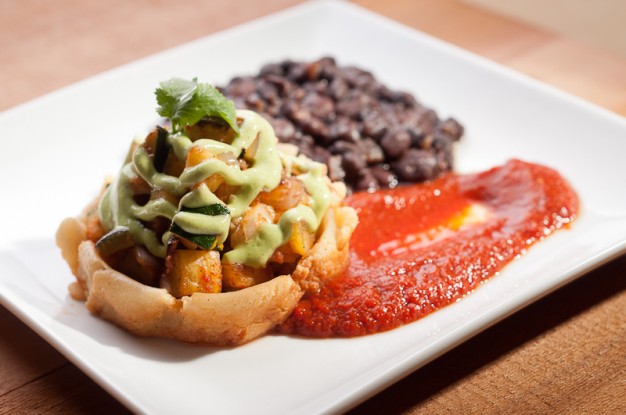 Sopes with Plantain, Zucchini and Two Sauces
In Mexico, there are a whole class of dishes called antojitos that are generally thought of as street food, though they may also be offered in smaller sizes as appetizers at restaurants. Most (all?) antojitos include a corn masa component, which may be thick or thin, topped, rolled or stuff, baked or fried, and can include a wide range of toppings. Sopes are  a classic antojito made by first griddling a thick tortilla, then reshaping it to have a rim and finally shallow frying to crisp it up.
Sopes can work with just about any filling you would put in a taco, like refried beans with onions, cheese, and shredded lettuce or roasted poblano strips in cheese sauce (chile con queso). For today's version I used a simple saute of plantains, zucchini and onions, ramping up the flavor with a charred scallion and lime crema and a smoky guajillo chile salsa. I originally made this with green plantains which are starchy and neutral, kind of like a potato. However I would recommend doing it instead with ripe plantains, whose sweetness I feel would make the dish even better.
For the salsa, I've called for Muir Glen fire roasted tomatoes. I see them in a lot of groceries now so I don't think you'll have too much trouble tracking them down. They add a wonderful background smokiness that makes the whole plate more interesting. In a pinch, you can use any brand of diced tomatoes, and maybe add a bit of chipotle for smokiness if you don't mind more heat. You can certainly replace the guajillo with ancho or another chile if you prefer.
If you choose to make this all in one day, it could be a bit of a project. You can simplify matters by making both sauces and the filling ahead, so you only have to concentrate on the sope shells the day your are serving it. All this really needs for accompaniment is guacamole, some black beans or pinto beans, and maybe a salad.
Sopes with Plantain, Zucchini and Two Sauces
Vegan if you substitute for sour cream. Kosher.

Makes 16 sopes, serves 6-8

90 minutes total
For the smoky guajillo salsa (can be made a day or two ahead):
2 dried guajillo chiles
3 cloves garlic (still in skin)
One 14.5 ounce can Muir Glen fire roasted diced tomatoes
1/4 teaspoon  kosher salt
pinch sugar
Place a small dry skillet over medium heat. Toast the chiles and garlic, pressing and turning occasionally, until quite fragrant, about 5 minutes. Allow the chiles to cool and discard the stems and seeds.
Peel the garlic. Combine the chiles, garlic, tomatoes, salt, and sugar in a blender and whiz on high speed until smooth. Taste and adjust seasoning. Reserve.
For the charred scallion and lime sour cream (can be made a day or two ahead):
4 scallions, trimmed
1 cup sour cream (for vegan, use a vegan sour cream replacement)
Big handful of cilantro leaves and tender stems
Juice of 1 lime
1/4 teaspoon kosher salt
Place a small skillet over medium-high heat. Add the scallions and cook, turning occasionally, until quite wilted and blackened in spots.
Combine the charred scallions, sour cream, cilantro, lime juice and salt in blender. Blend on high speed until smooth. Taste and adjust seasoning and reserve. In a squeeze bottle if you are into that sort of thing.
For the filling (can be made a day ahead):
1/4 cup vegetable oil, divided
2 ripe plantains cut into 1/4″ cubes (about 2 3/4 cups)
Kosher salt
2 medium zucchini cut into 1/4″ cubes (about 4 cups)
1 medium onion, diced (about 4 cups)
Put half of the vegetable oil a large skillet over medium-high heat. When the oil is shimmering, add the plantains and big pinch of salt. Cook, turning occasionally, until tender and caramelized, about 10 minutes. Remove with a slotted spoon. Repeat with the zucchini and then the onion (which will take less time), adding more of the oil as needed.
Mix together all of the filling ingredients with 1/4 cup of the guajillo salsa. Taste and adjust seasoning and reserve.
For the sopes (can be done a few hours ahead up through step 4):
2 1/2 cups masa harina
1 3/4 cups hot water
2 tablespoons vegetable shortening or vegetable oil
1/2 cup all purpose flour
1 teaspoon salt
1 teaspoon baking powder
Vegetable oil for frying
Cilantro leaves for garnish
Combine the masa harina and hot water in a bowl and knead with your hands until it reaches the texture of playdough. Cover, and let stand 30 minutes.
Mix the the vegetable shortening, flour, salt and baking soda into the sope dough. Preheat a comal or griddle to medium high. Divide the dough into 16 pieces, roll into balls (which should be about 1 1/4 inches in diameter) and cover with plastic wrap.
Using a lined tortilla press or your hands, press one ball out to about a 3 1/2 inch round, which will be about 1/4″ thick. Bake on the griddle for 10 seconds on each side and remove. Allow to cool for a few seconds, until you can touch it comfortably. Use your fingers to pull dough from the middle out to form walls around the perimeter, about 1/4″ thick and 1/2 inch high. Return to the griddle for one minute, on the flat side only, and then set aside, covered, until ready to fry
Repeat with the remaining balls of masa. Once you have the hang of it, you can have two going at once, in staggered stages
When you are ready to finish the dish, reheat the filling and the guajillo salsa and warm your serving plates. Heat a large skillet with 3/4″ of vegetable oil over a medium-high to high flame. When it is hot enough to sizzle if a scrap of dough is added, fry the sopes, wall side down, for about 45 seconds to a minute, until they are golden brown in spots and crispy. Drain on paper towels.
Put some of the guajillo salsa on each plate, and then put two sopes on the salsa. Top each sope with a big scoop of the plantain filling and spoon on a good amount of the charred scallion sour cream. Garnish with cilantro and serve.