In the 1990's, when I went to college in New York City, I ordered my fair share of take out from Chinese restaurants. Back then sesame noodles were at the top of my list. That was before I was diagnosed with celiac disease and went on the gluten-free diet in 1998.
That hankering for a good gluten-free sesame noodle recipe has never gone away. That's why I've worked so hard to create this gluten-free Sesame Kelp Noodles dish for you. Everyone says it's as good as the real thing!
This recipe for sesame noodles is made with low-carb kelp noodles. For other low-carb noodle options check out my Paleo Pasta post!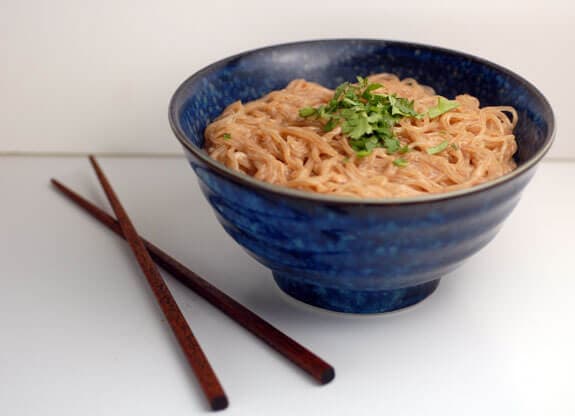 Print
Pin Recipe
Soften noodles using my secret method

In a small bowl combine almond butter, sesame oil, ume vinegar, and stevia

Toss noodles with sauce

Serve
Prep Time 20 mins
Total Time 20 mins
I'm just thrilled about low-carb kelp noodles. Please note though that if you don't soak your kelp noodles properly they will have a seaweed-ish type crunch to them. If you follow the steps this Sesame Kelp Noodles dish will be magical.
I like to serve low-carb Sesame Kelp Noodles with these easy paleo dinner recipes!
Thai Chicken Wraps
Salmon Kabayki
Sesame Salmon Burgers