You only need five ingredients (plus true pantry staples like salt and pepper) for this Italian meal for two: lamb chops, olive oil, mint, garlic, and lemon. For a truly Mediterranean-style meal, add a full-flavored but healthy side, like Vegetable Grill with Balsamic-Red Wine Glaze.
Cal/Serv:
190
Yields:

2
Prep Time:

0

hours

20

mins


Total Time:

2

hours

20

mins


Lamb Chops
4

rib lamb chops
1/2
c.

olive oil
4

sprig torn mint
2

clove garlic
1/2
tsp.

Freshly ground pepper
Gremolata
1

clove garlic
1/4
tsp.

lemon zest
1/4
tsp.

salt
1/2
c.

loosely packed mint leaves
2
tsp.

olive oil
Place lamb chops, olive oil, torn mint, garlic, and pepper in a large, sealable plastic bag. Toss to coat lamb chops and marinate in refrigerator for 2 hours.
Remove chops, wipe off excess marinade, and season with salt and freshly ground pepper. Broil chops on high until medium-rare, about 3 minutes per side. Remove and let rest for 5 minutes.
Meanwhile, to make gremolata: Crush garlic, lemon zest, and salt into a paste using the side of a large knife or a mortar and pestle. In a small bowl, stir together garlic paste and mint leaves with olive oil. Transfer chops to serving plate, drizzle with mint gremolata, and garnish with fresh mint.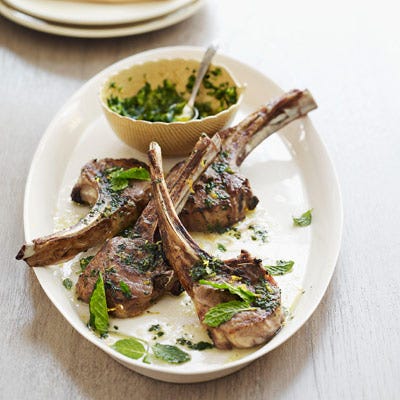 This content is created and maintained by a third party, and imported onto this page to help users provide their email addresses. You may be able to find more information about this and similar content at piano.io