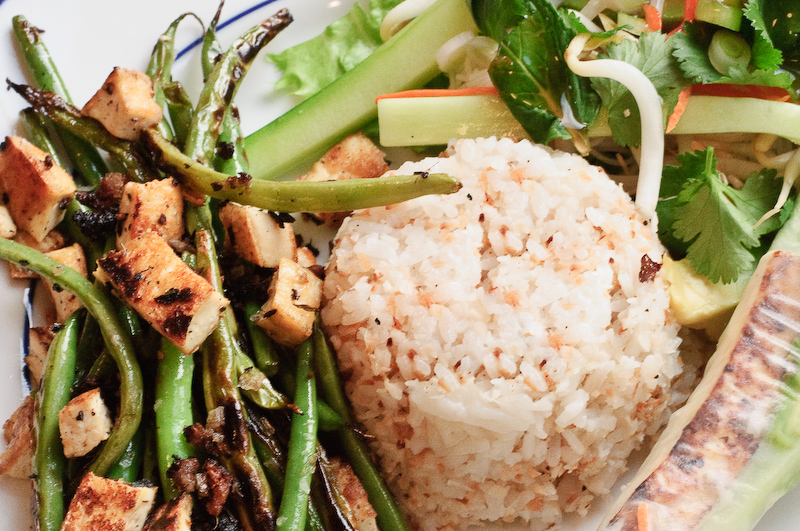 Coconut rice
If you like the flavor of coconut, this coconut rice is a killer side dish. It is about two minutes more work than normal rice, and it is a great change of pace because the rice goes from being the neutral canvas for other components to stealing the show. It uses both coconut milk and unsweetened dried coconut to give a very intense, flavor and unexpected texture.
I've made this both with jasmine rice for a Thai or Vietnamese meal (see the picture above), or with basmati rice for Indian cuisine. 
You could amp the flavor up even further with lime juice, cilantro, unrefined sugar (jaggery) or toasted black mustard seeds.
Coconut Rice
Serves 4
Vegetarian, vegan and gluten-free
1.5 cups jasmine or basmati rice
1 14 oz. can coconut milk
3/4 cup unsweetened dried shredded coconut
1 teaspoon salt
Prepare the rice in your usual way (rice cooker or stovetop), but substitute the coconut milk for an equal amount of water. Then add 1/4 cup more water to make up for the fact that the coconut milk has some solid content.
Meanwhile, carefully toast the dried coconut in a dry skillet over medium-low heat, or in a toaster oven. Stir frequently to be sure that it all browns nicely and none of it burns. This should take about 5 minutes.
Reserve a bit of the toasted coconut for garnish. Just before serving the, stir in the rest of the toasted coconut and salt. Fluff and serve.