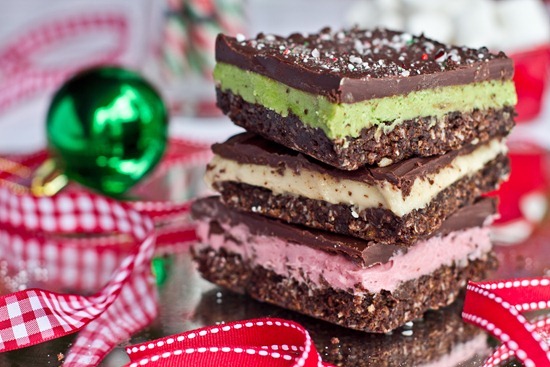 Hello!
Today, I am grappling with two concerning questions…
1) How is it only 8 days until Christmas?
2) Where did 2010 go? I was just getting used to writing 2010 and now it is almost 2011!
Am I the only one who is a bit freaked out by this?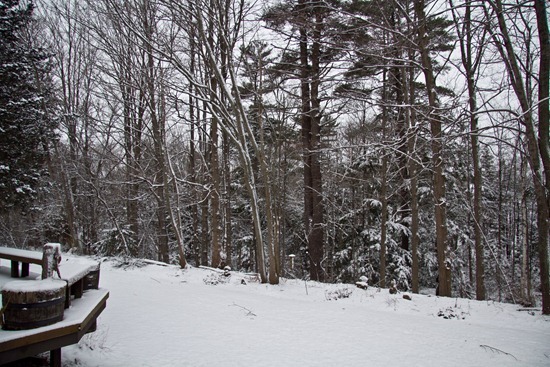 I can finally say that TODAY is the the very last day to vote in the entire Project Food Blog contest! Rejoice. Tomorrow the result is announced at 3pm EST. I think I shall hide under my desk with a blanket over my head.
Today, it is indeed hip to be square.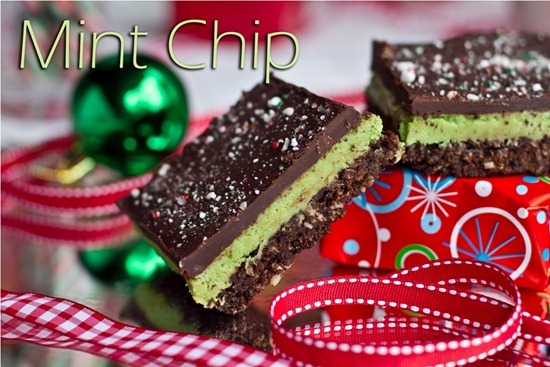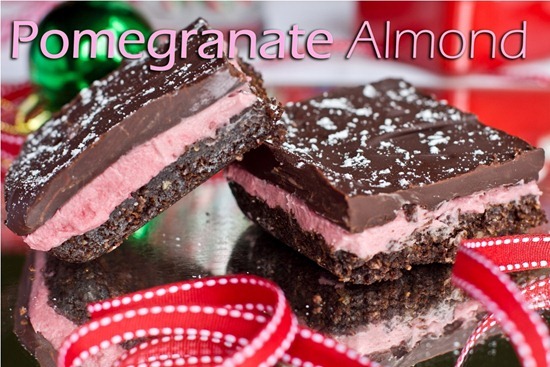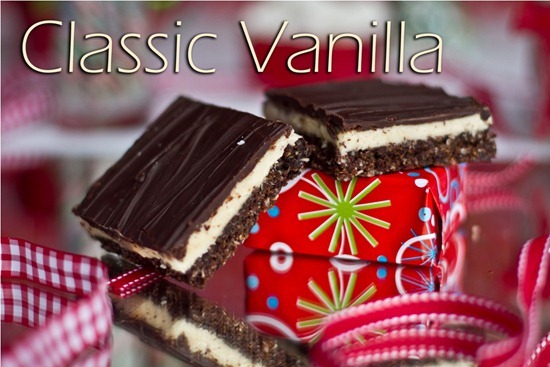 It's time for Part two of the vegan Nanaimo Bars! For Part 1, see how to make the Vegan Graham Crackers.
[print_this]
Classic Vanilla, Mint Chip, and Pomegranate-Almond Variations
Adapted from a family recipe as well as Joyce Hardcastle, 1986.
Classic Vanilla
Bottom Layer
1/2 cup vegan butter (or regular butter)
1/4 cup sugar
5 tbsp unsweetened cocoa powder, sifted
1 flax egg (1 tbsp ground flax + 3 tbsp warm water, mixed)
1 and ¼ cup vegan graham crackers or store bought, processed into a crumb
1/4 cup almonds, processed fine
1 cup unsweetened coconut
Middle layer
1/2 cup vegan butter (or regular butter)
2 tbsp coconut milk, full-fat (not light)
1 tsp pure vanilla extract
2 tbsp vanilla custard powder
2 cups icing/confectioner's sugar, sifted
Top layer
4 oz non-dairy dark chocolate or semi-sweet plus 2 tbsp vegan butter (or regular butter)
Shredded coconut, to garnish (optional)
Directions:

1. Line an 8 inch square pan with parchment paper and grease with butter on all sides. Leave a

few inches of parchment hanging on the two ends so you can easily lift it up out of the pan when

firm.
2. Middle layer: I prefer to begin making the middle layer because it will be ready when your

bottom layer is pressed into the pan. In a small bowl, mix together the 2 tbsp of coconut milk and 1 tsp of vanilla with the 2 tbsp custard powder. Stir until smooth.

With an electric mixer, beat the butter in a large bowl until smooth and creamy. Now add in the

custard, coconut milk, and vanilla mixture and beat for a few minutes.

Gradually, add in the icing sugar and beat for about 3-5 minutes until light and fluffy. Set aside.

3. Bottom layer: In a small bowl mix the flax egg together (1 tbsp ground flax + 3 tbsp warm

water). Set aside for a few minutes to allow it to thicken up. In a saucepan, whisk together the

butter, sugar, and sifted cocoa powder. Heat on medium to low and stir frequently until smooth.

Now add in the gelled up flax egg and stir well. It will have a strange gel-like consistency now,

but have no fear! Stir for a minute or so.

Now remove from heat and stir in the coconut, processed almonds, and graham wafer crumbs.

Stir well and then mix with your hands.

Press this mixture into your prepared pan, ensuring that you press it down very firmly and as

evenly as possibly. I used a pastry roller to smooth it out, but this is not necessary.
4. Take your middle layer frosting and spread over top of the bottom layer. Smooth it out as

evenly as possible. Place in the freezer until firm, about 45 mins.
5. Top Layer: Melt your chocolate and butter in a double boiler or carefully in the microwave.

Stir well until smooth and all clumps are gone. Remove the pan from freezer and spread the

chocolate quickly over the top. Sprinkle coconut on top if desired. Smooth out as much as

possible and then place back in the freezer for about 1 hour until set. Once set you can transfer it

to the fridge to keep until ready or you can place it on the counter for about 10 minutes before

cutting it into squares. Makes about 16 small squares.

Note: Middle layer gets very soft at room temperature. Please keep in the fridge until serving and

always cut when chilled.
For the Mint Chip and Pomegranate Almond flavours please see this pdf: https://ohsheglows.com/docs/challenge10.pdf

[/print_this]
You start by mixing your coconut milk, vanilla extract, and custard powder together in a small bowl.
With a mixer beat the Earth Balance/butter until smooth, and then add in this coconut milk/custard mixture. Mix well and gradually add in the sifted icing sugar.
Wheeeeee.
Your middle layer should look like this…if making Classic vanilla.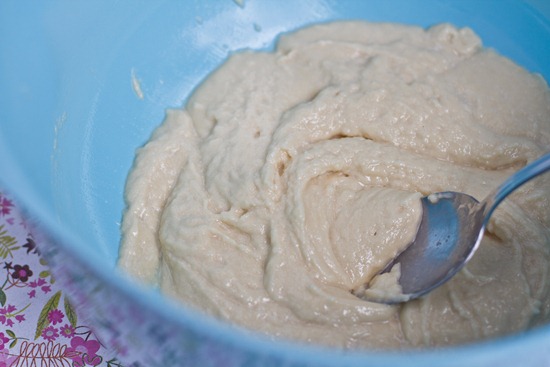 and like this if making the Mint Chip…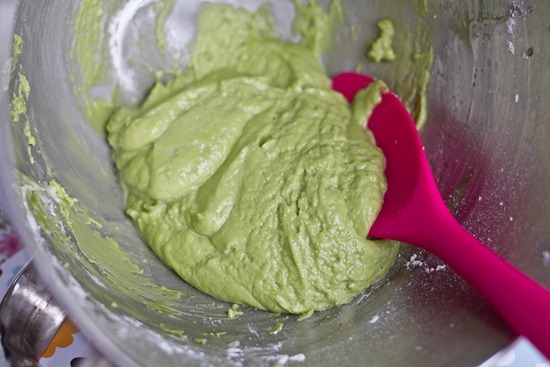 and like this if you are making the Pomegranate Almond…
Now set middle layer aside and make the base layer.
In a saucepan over medium heat, whisk together the butter, sugar, and sifted cocoa powder.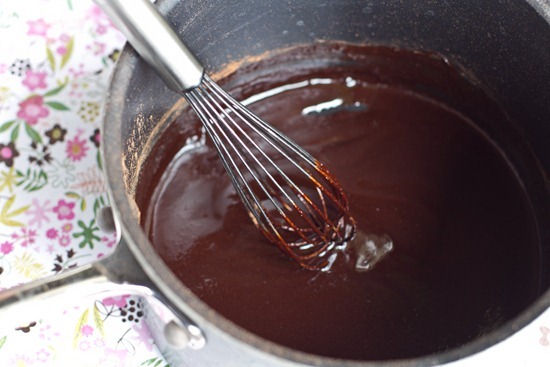 Now add in the flax egg.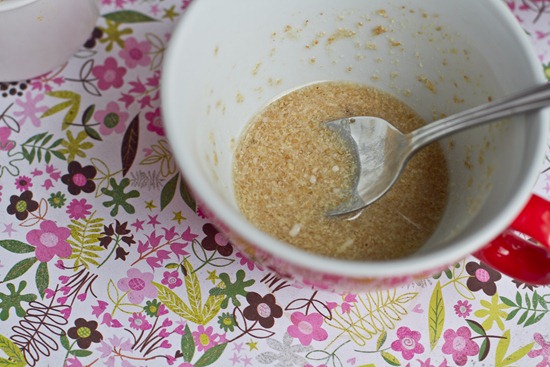 It will sort of gel up a bit and change in consistency. This is totally normal. At least, that's what I tell myself.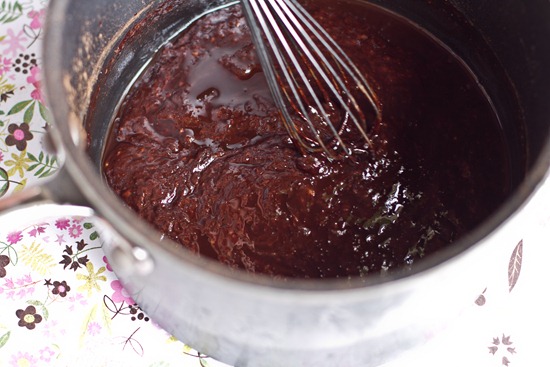 Now remove from heat and grab your coconut, processed almonds, and graham wafer crumbs.
I used homemade Vegan Graham Crackers and processed them in a food processor.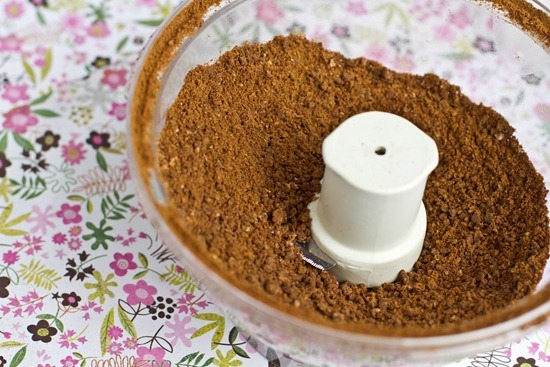 Process your almonds…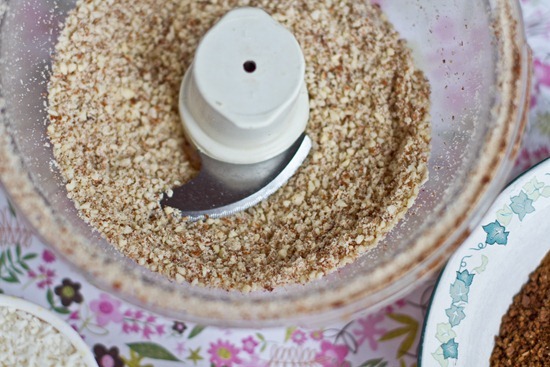 and grab your coconut.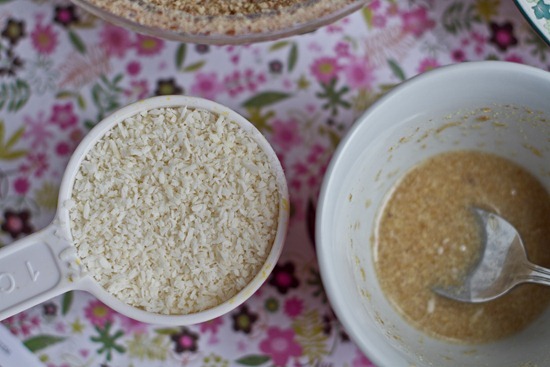 Add all three to the saucepan mixture and stir well. When it gets too thick get in there with your hands and squeeze it all together.
Grab your 8 inch by 8 inch lined pan and dump the base layer mixture into the pan.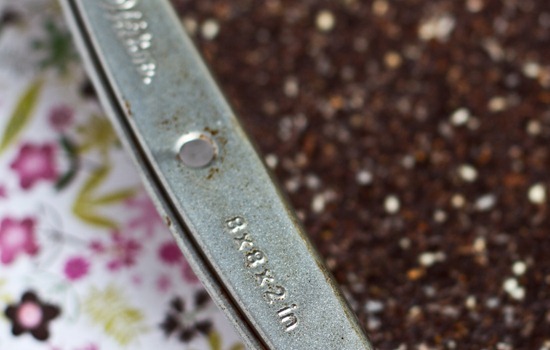 Press it down as much and as evenly as you can. I also used my pastry roller to smooth it out. The goal is to make it level!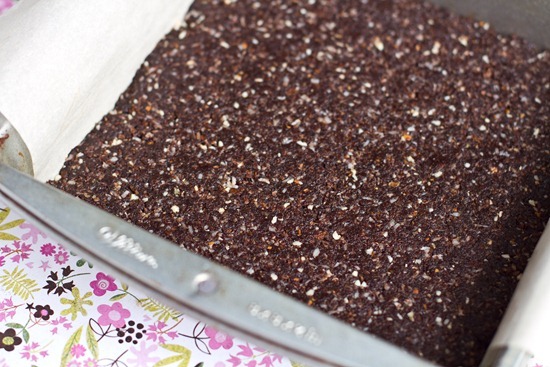 Now grab your middle layer filling that you so conveniently prepared in advance and scoop it onto the base layer.
Smooth it out….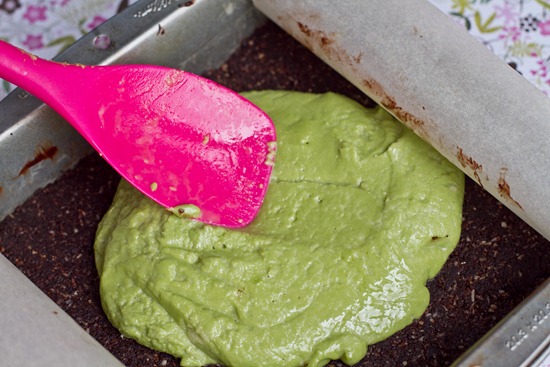 [Note: Above photo is Mint Chip filling]
Vanilla filling will look like this: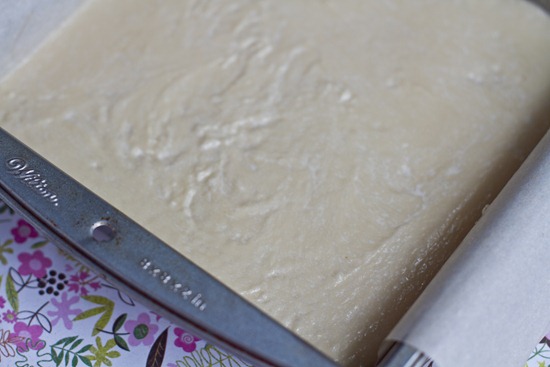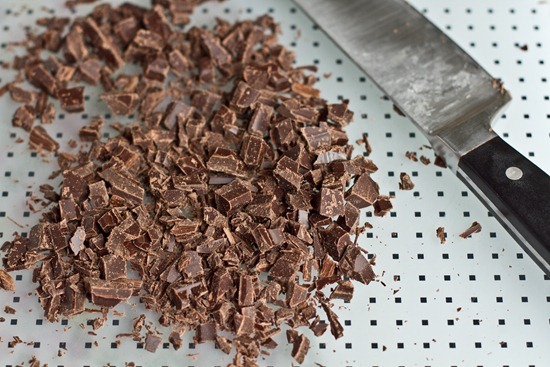 Now melt your Earth Balance/butter and chocolate together in a double boiler or bowl in the microwave and spread it all over the top of the middle layer: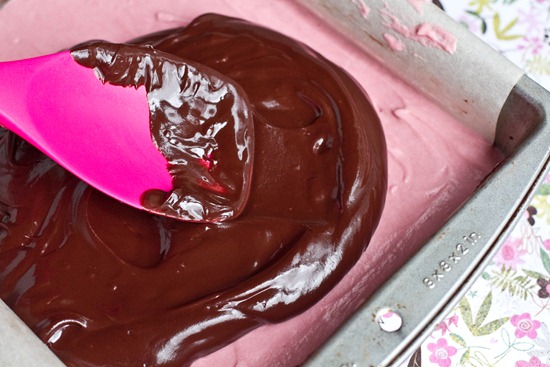 It will look a bit like this: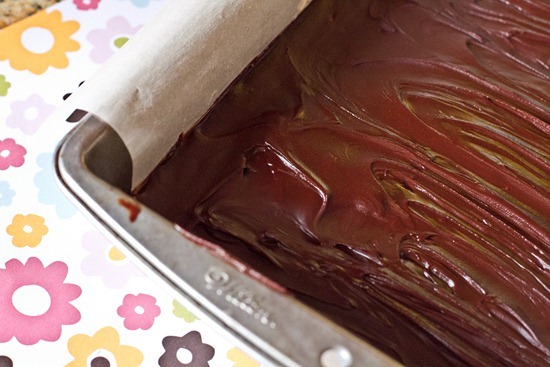 Dreamy!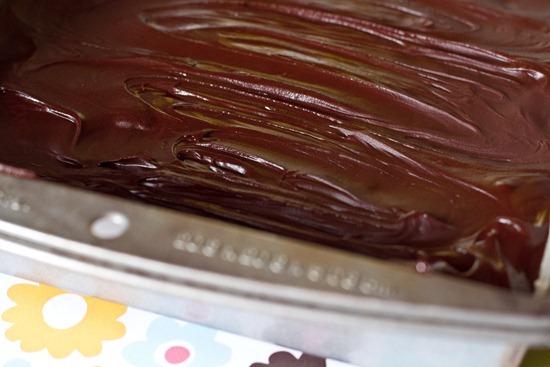 Now place in the freezer to set for about 45 mins-1 hour.
That'll do.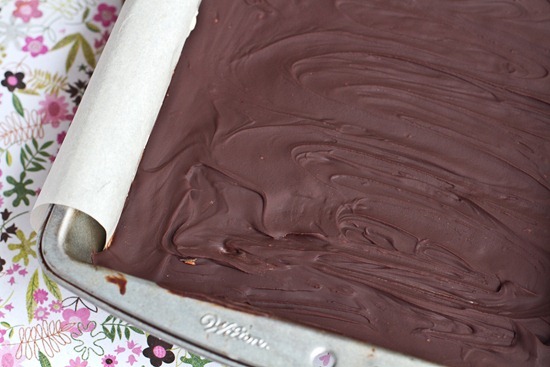 Let it sit on the counter for about 10 minutes before cutting into squares. Serve chilled (because the filling melts at room temperature).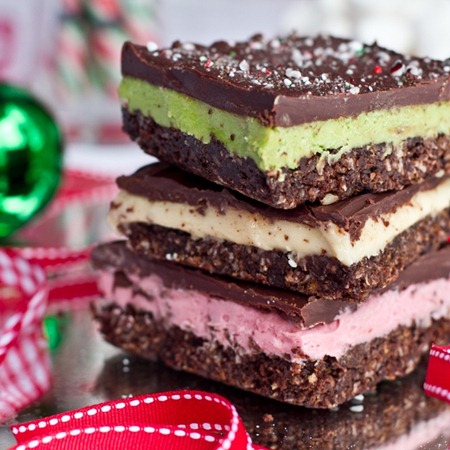 Now prepare yourself for a life long addiction to the Nanaimo bar goodness! I need a support group.