I told you I was in the mood for comfort food, right?
Oh boy. Someone hold me back.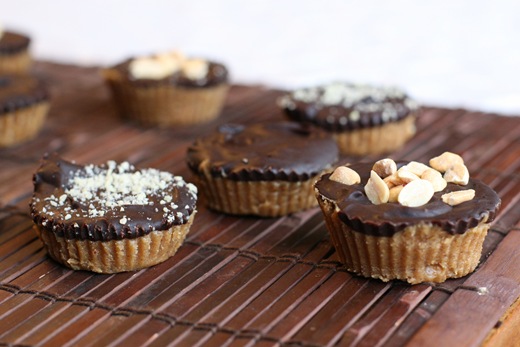 Vegan Chocolate Peanut Butter Cups
This recipe took a total of 20 minutes to make- including clean up! They require no baking as well. What could be easier than that!?
Ingredients:
1/2 cup vegan butter or margarine
3/4 cup crunchy peanut butter (preferably unsalted)
3/4 cup vegan graham cracker crumbs or 10 graham cracker squares
1/4 cup Turbinado sugar (brown sugar probably works too)
1 cup grain-sweetened, nondairy chocolate or carob chips (I used vegan dark chips)
1/4 cup almond milk
2 T chopped peanuts, for garnish (optional)
1 T chia seeds, for garnish (optional)
1-2 T ground almonds, for garnish (optional)
Line a 12-cup muffin tin with paper liners or reusable liners
Directions: Melt the vegan margarine/butter in a medium saucepan over medium heat. Stir in the peanut butter, graham cracker crumbs, and sugar and mix well. Remove the mixture from the heat. Evenly divide the mixture, approximately 2 tablespoons per cup, among the muffin cups. Combine the chocolate and milk in another pan. Stir over medium heat until the chocolate has melted. Spoon the chocolate evenly over the peanut butter mixture. Top with chopped nuts and chia seeds. Place in the freezer for 60-75 minutes until firm.
[Recipe adapted from The Kind Diet]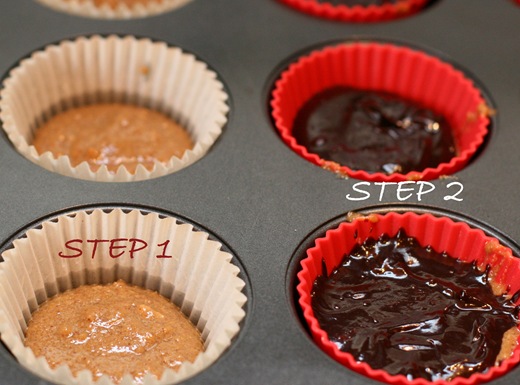 I used both reusable and paper liners and I was delighted that both kinds worked fabulously and did not stick. They were easy as pie to peel off.
Of course I had to sprinkle them with chia seeds!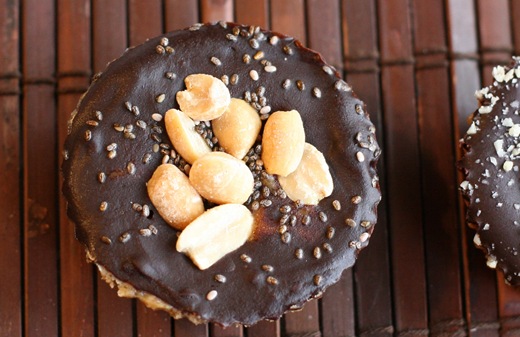 These are quite possibly the most dangerous vegan dessert I have ever made.
Definitely not your everyday indulgence (I imagine they are very high in calories!), but man are they awesome!!!!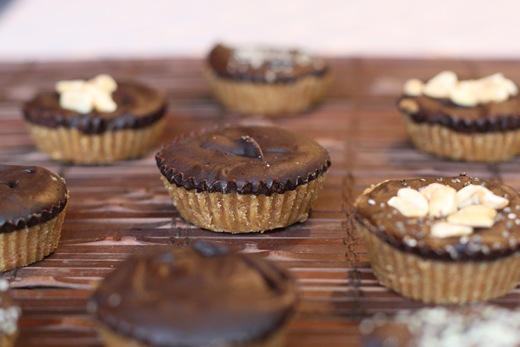 These would be a huge hit at a party and would go like hot cakes. Mmmmmmmm.
Next time I would make these using a mini muffin tin as they are very rich!
My life as a vegan would now be complete if only there was a decent vegan cheese!
Glo Bakery News
Glo Bakery is kicking off the New Year with a brand spankin' new Variety Pack.
The Healthy Resolution Fit Packs will be going on sale tomorrow morning (New Years Eve) including the reveal of Glo Bakery's newest Glo Bar called CRAVE. Stay tuned for the details!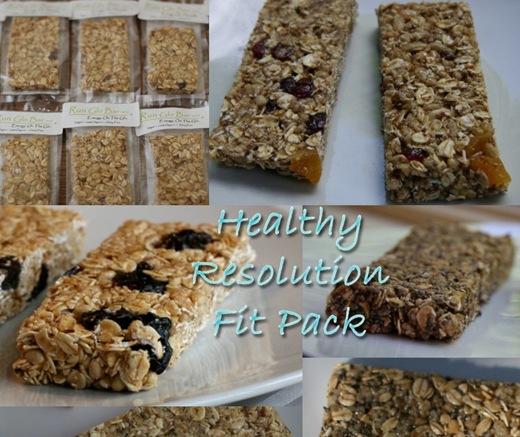 Enjoy your hump day!