Hey there!
Hope the start to your weekend is treating you well. The good news is I am almost ready for tomorrow's farmer's market…the bad news is that I didn't have time to do any desk work, HST research, bills, etc. I will have to set aside some time Monday for catch up I guess.
In tonight's dinner, I got to use a new oil that I have never tried before…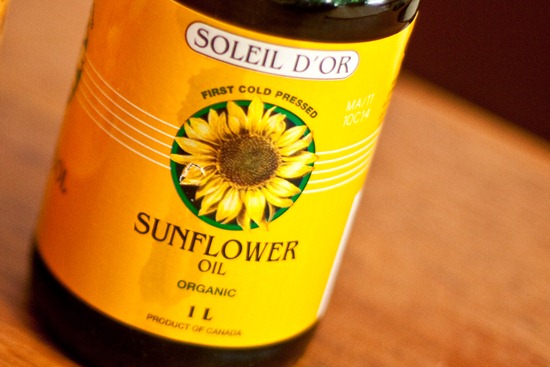 I have heard that cold-pressed oils are superior, but I wasn't exactly sure why. After a bit of poking around I discovered that cold-pressed means that the oil has been made with a low heat technique. Using high heat during the processing of oil degrades the nutritional value, flavour, and colour. The reason why cold-pressed oils are more expensive is because the cold-pressed technique yields less oil as compared to using heat. Also, oils need to be stored in dark glass bottles away from sunlight and heat to prevent oxidization. [Source]
I decided to make my very first vegan Caesar salad tonight. Eric and I were both in the mood for something light and fresh.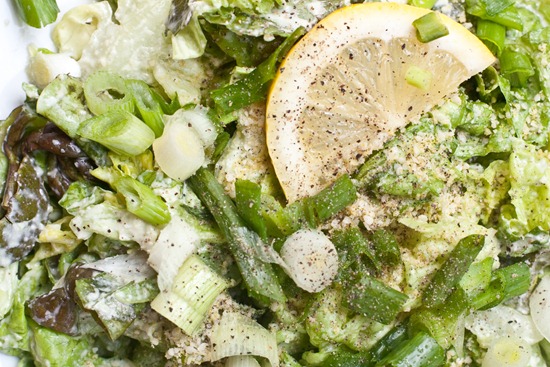 Vegan Caesar Salad Dressing
[Inspired by ED&BV]
Ingredients:
1/2 cup raw cashews
1/4 cup 3 minute Vegan Parmesan cheeze
6 tbsp fresh lemon juice, or to taste
2 tbsp sunflower oil (or EVOO)
1 garlic scape (or 1 clove garlic)
1/2 tsp sea salt, or to taste
Freshly ground black pepper, to taste
1/2 cup water
Directions: In a blender or food processor, add the lemon juice, water, and oil and blend/process until mixed well. Now add the rest of the ingredients and blend/process well. Scrape sides down as necessary. Blend/process until smooth. Adjust seasonings if necessary. Dressing will thicken up in the fridge and you can add more water to thin it out of necessary. Makes about 2/3 of a cup.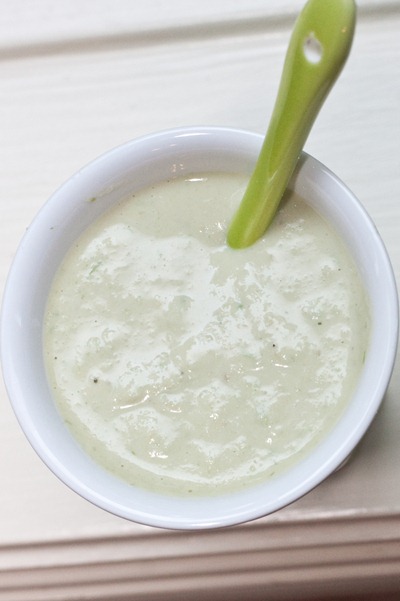 Dreena Burton's recipe included a bit of agave nectar. My initial reaction was not to use agave (I am not big on the taste), but I included it anyways. I really regretted it because the dressing had sort of a strange taste to it. Next time I would leave out the agave and I think it would be much better.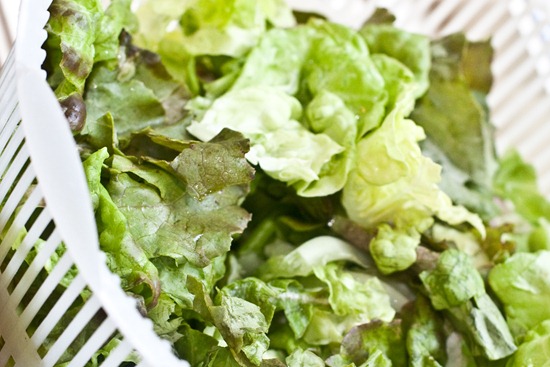 After mixing the salad, I added chopped green onions, more 3 minute Vegan Parmesan cheeze , freshly ground black pepper, and fresh lemon. I forgot the homemade croutons that I was planning on making though.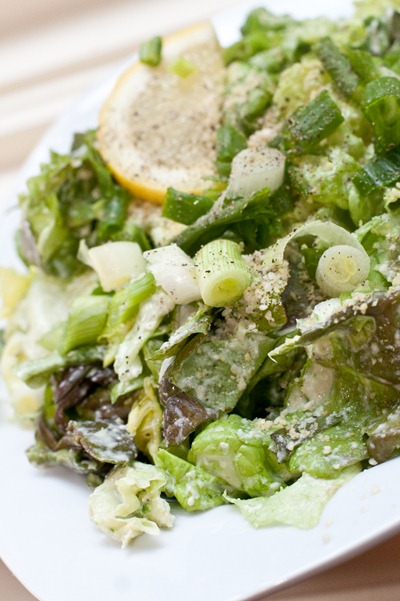 Eric said, 'The only thing this is missing is croutons.' and I went awwww crap! Don't you hate when you forget something?
When I was a child we would have Thanksgiving or Christmas dinner and my parents always forgot the beets in the fridge or the rolls warming in the oven or a veggie side dish. There was always one thing forgotten amongst all the dishes and oodles of food. Half way through the dinner someone would go….WE FORGOT THE ROLLS! AHHHH. Once the rolls were located we would all grab a roll, butter it, take a huge bite, and sigh with delight as if the missing piece to the puzzle had been returned.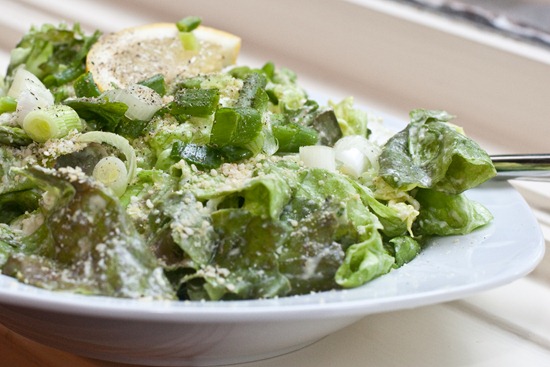 However, no one volunteered to get up from the table and make croutons tonight. 😆 We made do without the croutons since we had our lovely toasted bread to keep us happy.
We had the salad along with aaaaaamazing open-faced toasted sandwiches. I've been on such an open-faced sandwich kick!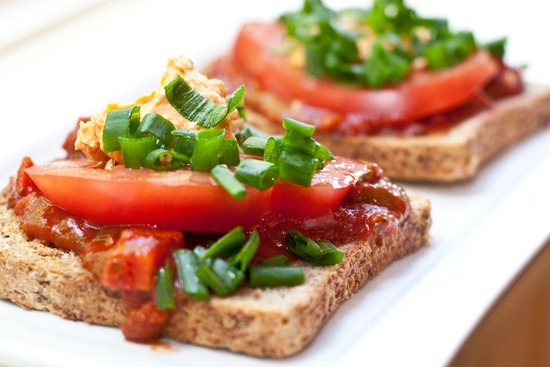 It included: Pasta sauce on the bottom, tomato, roasted red pepper hummus, green onion, drizzle of EVOO, and black pepper on toasted Ezekiel bread.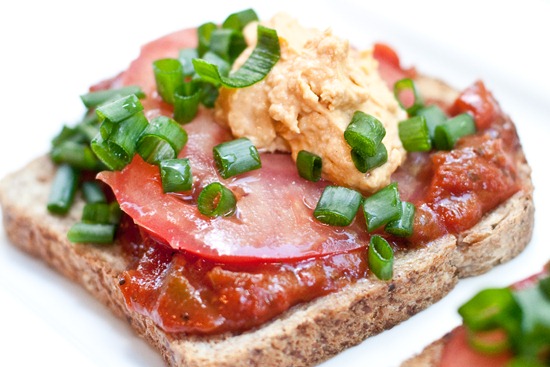 It was an easy + delicious summertime dinner!
What are your favourite summertime meals? Any staples that you make frequently over the warmer months?
I'm off to finish prepping for tomorrow's market. I don't think I will have time for my workout today, but I will have to see how quickly I can finish up. Enjoy your Friday night!