A Thai-inspired dish that's a great alternative to takeout.
Want more vegan recipes? Check out our new vegan dinners cookbook!

Cal/Serv:
260
Yields:

4
Prep Time:

0

hours

25

mins


Total Time:

0

hours

25

mins


1
c.


fresh pea pods
1/2
c.


shredded carrots
1/2
c.


quartered cherry tomatoes
Sliced green onions
2
tbsp.


slivered fresh Thai basil or fresh basil
1/4
c.


unsweetened light coconut milk or unsweetened coconut milk (see tip)
1
tbsp.


lime juice
1/2
tsp.


toasted sesame oil or toasted sesame seeds
1/4
tsp.


crushed red pepper
4
Grillers® Vegan Veggie Burgers
1
Focaccia
Lengthwise cut pea pods into slivers. In medium bowl toss together pea pods, carrots, tomatoes, green onions, and basil. Set aside.
In small bowl whisk together coconut milk, lime juice, sesame oil, and red pepper. Drizzle over vegetables. Toss to coat.
Cook vegan veggie burgers according to package directions.
Serve hot burgers in focaccia, topped with vegetable mixture.

On the Grill: Preheat grill. Use a food thermometer to be sure patties reach minimum internal temperature of 160 degrees F.

Each serving provides 90% DV Vitamin A, 30% DV Vitamin C, 6% DV Calcium, 8% DV Iron.

®, ™, ©, 2010 Kellogg NA Co. Morningstar Farms® Recipes are the property of the Kellogg Company.

This recipe has been tested and endorsed by Kellogg and Morningstar Farms®.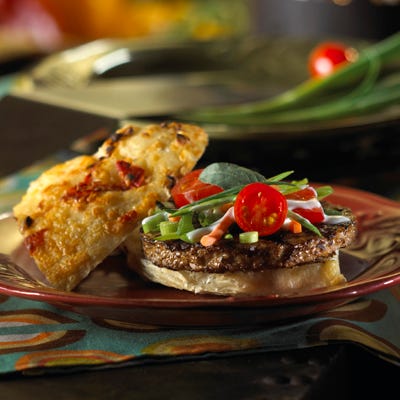 Courtesy of Morningstar Farms
This content is created and maintained by a third party, and imported onto this page to help users provide their email addresses. You may be able to find more information about this and similar content at piano.io