Yummy layered make-ahead breakfast dish that's filled with all the good things in life.
---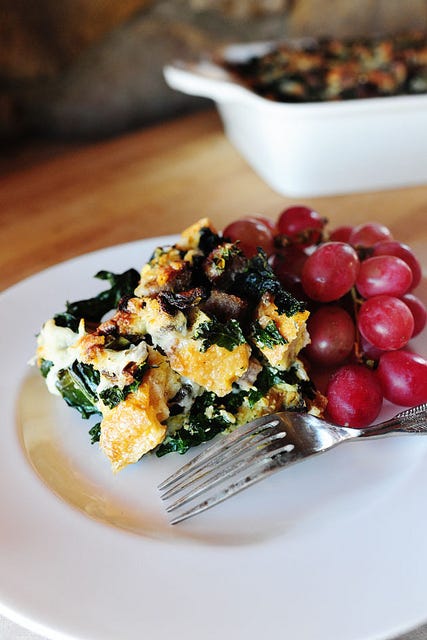 I love make-ahead breakfast casseroles, also known as strata, also known as Breakfast Bread Pudding, also known as I Don't Care What It's Called, I Just Want to Eat It. There are thousands of variations on the theme: Mix chunks or slices of bread with your choice of ingredients, then pour an egg mixture over the top, refrigerate overnight if you can, and bake. And the world suddenly makes perfect sense again.
I made a large quantity of a breakfast strata just before Christmas, and it wound up being enough for an army. This is the full recipe, but you could easily halve it if you just need a few servings. And feel free to sub whatever ingredients you have on hand: bacon, ham, different cheeses, caramelized onions, red peppers…have fun making your own.
But most of all, have fun eating it.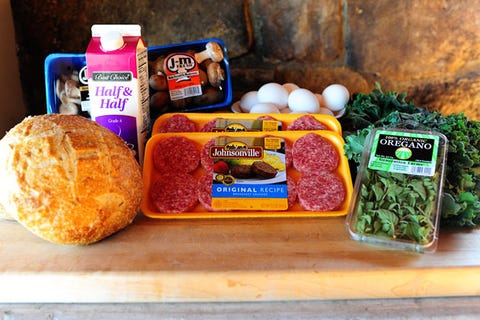 The Cast of Characters: Breakfast sausage, crusty bread, eggs, half-and-half, kale, mushrooms, salt, pepper, Monterey Jack cheese, and fresh oregano if you can get it.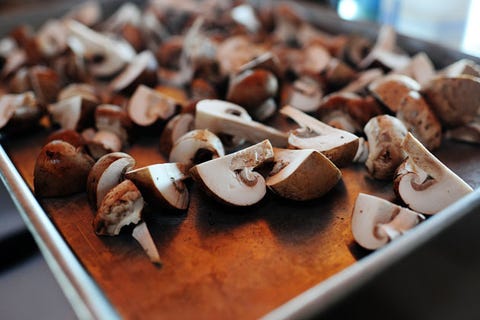 First, roast the mushrooms by placing them on a baking sheet…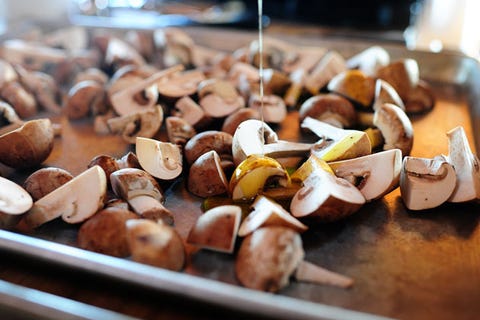 Then sticking the pan in a 425-450 degree oven for 15 or 20 minutes, until they're nice and roasted.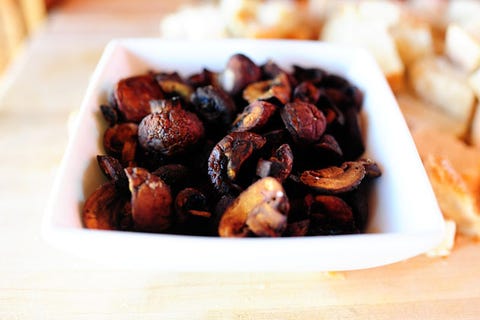 Don't be like me. I forgot about them until they were crisp. Oops.
At this time I will decline to show you the oyster mushrooms I also roasted and forgot about. Scariest looking things I've ever seen.
But I was not going to be thwarted.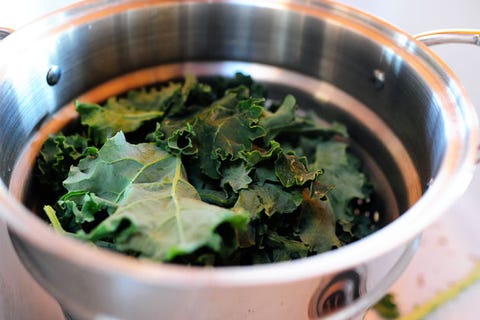 Next, tear the kale into large pieces and rinse it really well.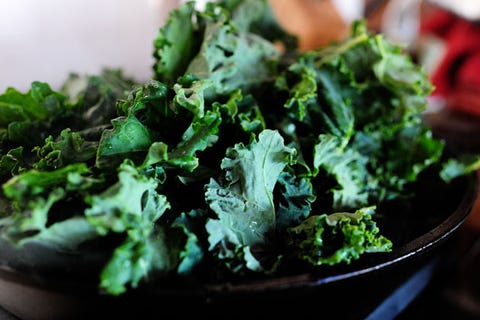 Then throw it into a large skillet with a little olive over over medium-high heat.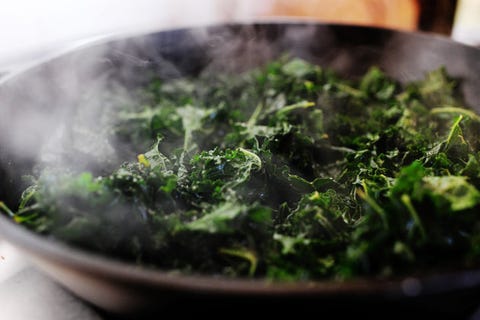 Move it around with tongs until the kale begins to shrink up, just about 2 minutes or so. Then remove it from the pan and set aside.
Kale is still my boyfriend. We're totally hot and heavy these days.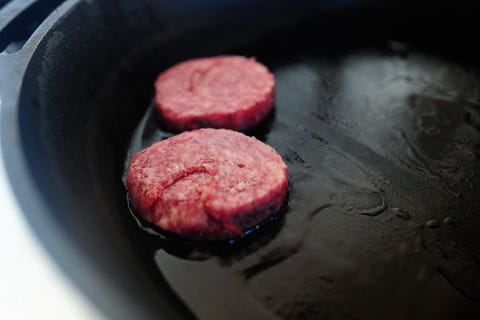 Next, cook up the sausage patties…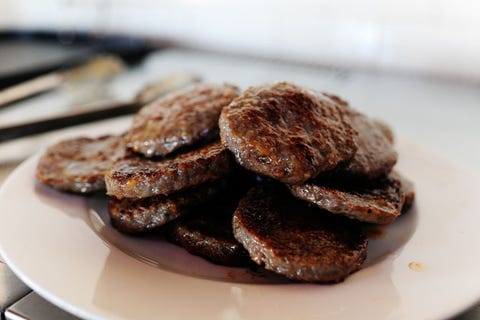 Remove them from the pan and let them cool…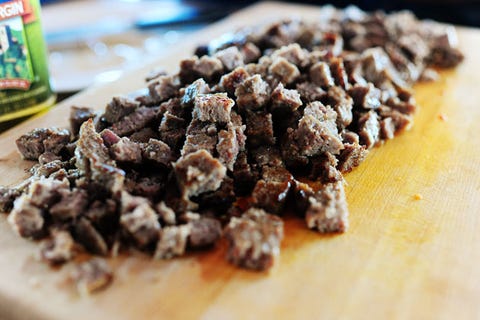 Then chop it into cubes.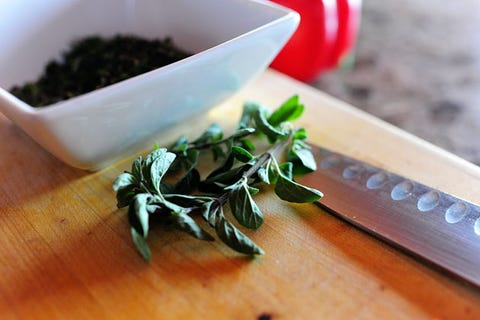 Next up, grab the oregano (or you can use parsley, basil…whatever you can get right now)…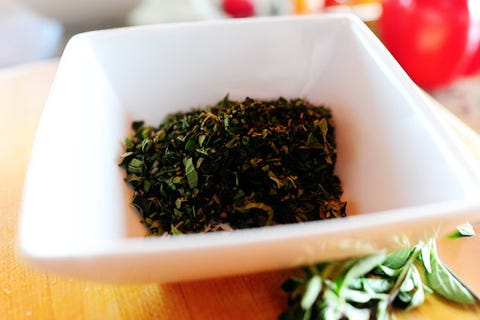 Then mince it really finely and set it aside.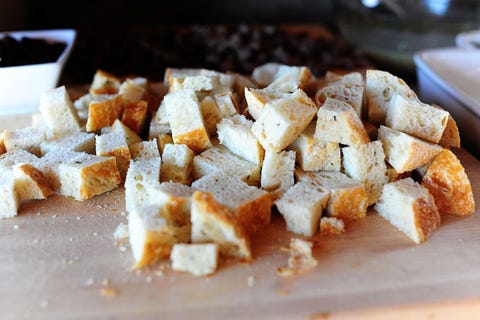 Grab the bread and cut it into a dice, then set it aside…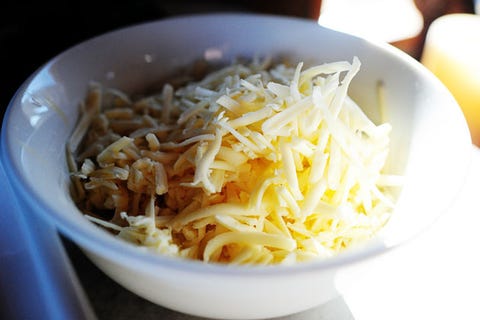 And grate the cheese and set it aside.
Whew. We just set a lot of things aside! I'm exhausted.
Roasted mushrooms

Sauteed kale

Diced sausage

Minced oregano

Cubed bread

Grated cheese
Oh! And one more thing: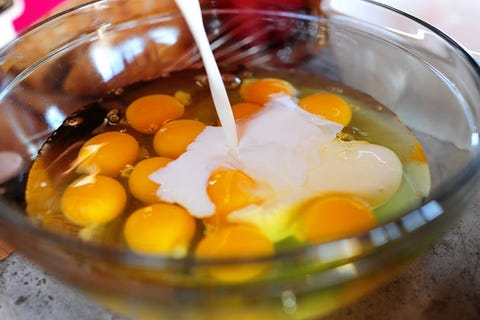 Mix a bunch of eggs with some half-and-half or milk…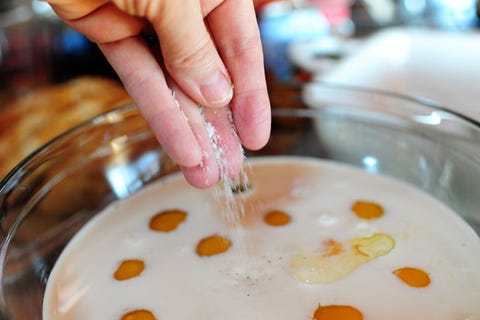 Then sprinkle in some salt…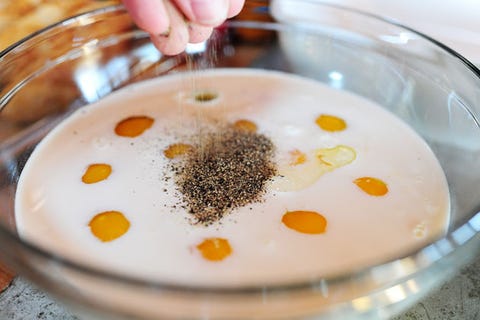 And some pepper.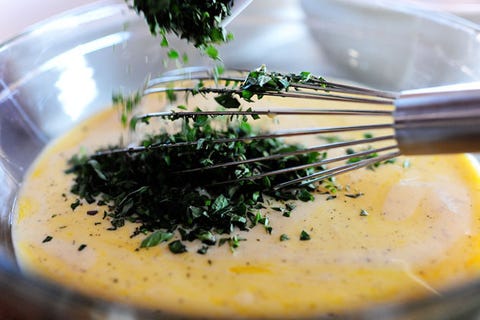 Then whisk it all together and add in the minced oregano.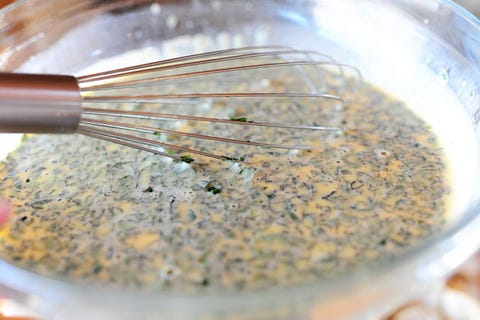 And whisk it to combine. Yum!
And *sniff sniff* YUM. Smells so, so good.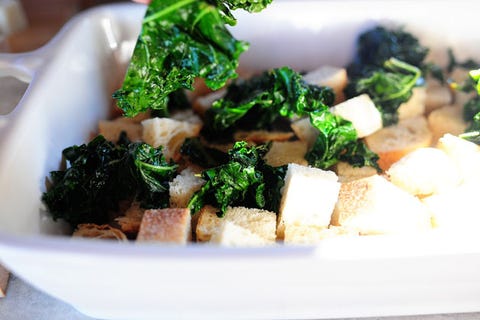 Now it's time to build the sucker. Add half the bread to a large, buttered casserole dish (I used a lasagna pan because I'm making so much.) Then lay half the kale on top.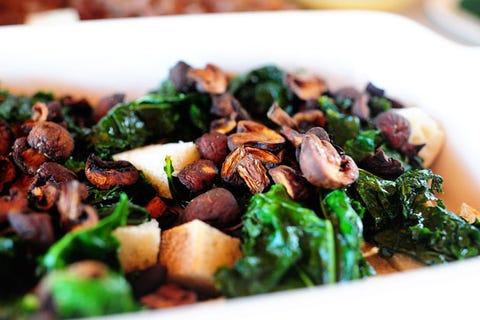 Then add half the mushrooms. Yours will look much better than mine.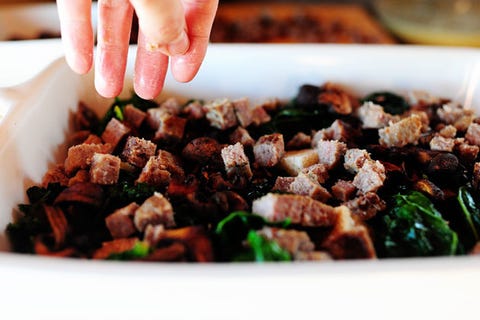 Next, add half the sausage.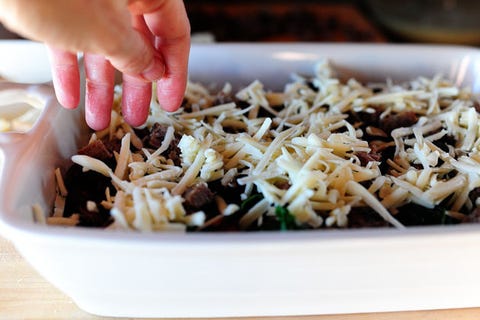 Then comes half the cheese…
Then you repeat all the layers, ending with cheese. It'll probably be sticking up over the surface of the pan, but that's a good thing. It conveys abundance!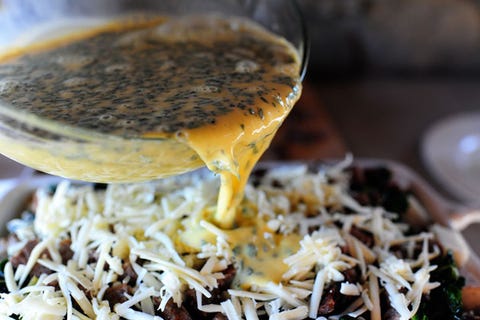 After you get the second layer on, just pour the egg mixture all over the top, pouring it on as evenly as possible.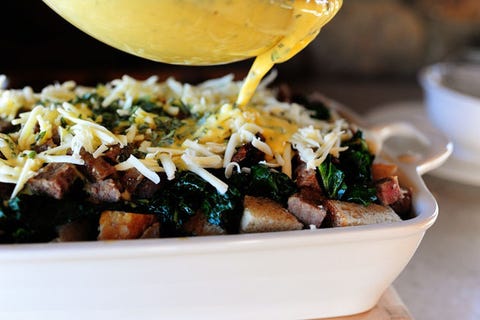 Go kinda slow, as you want the egg mixture to touch all the bread, both on the top and bottom layers.
Then, here's what you do: Cover it in plastic wrap and stick it in the fridge. Of course, you could bake it right away (I did for the purposes of this post) and it will be totally delish. But if you keep it in the fridge overnight and bake it the next day, that'll give the bread a chance to really soak up the eggy goodness and for all the flavors to marry and live happily ever after.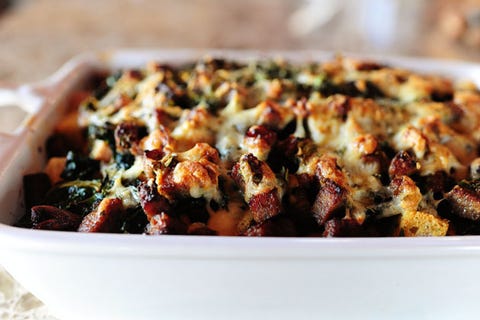 To bake it, cover it in foil and bake it in a 350 degree oven for 30 to 40 minutes, which will give the egg/bread a chance to cook. Then remove the foil and continue cooking it for 20 to 25 minutes, to allow the top to get nice and crisp and wonderful. And that's the glory of a dish like this: the top surface is nice and golden brown and crisp, but the underside is soft and tender.
I made this a few weeks ago and now I'm craving it again. I need to stop talking about it. It's causing me pain.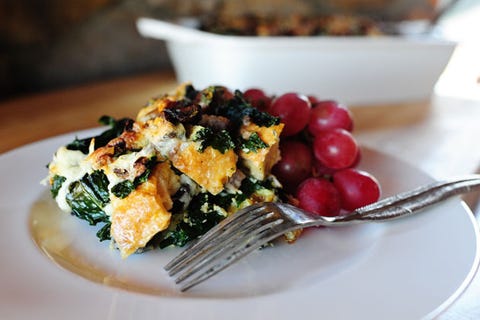 And…yum. To serve it, just scoop it out onto a plate (or cut it into neat squares if you're a neat square kinda person) and serve it with grapes or other cool, fresh fruit.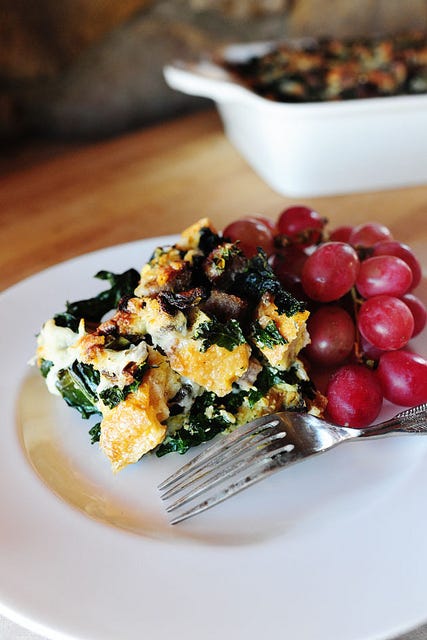 Divine! A breakfast fit for a king…and enough to feed an army.
(And just to remind you: you can easily halve this recipe!)
Enjoy, my friends.
Here's the handy dandy printable:
This content is created and maintained by a third party, and imported onto this page to help users provide their email addresses. You may be able to find more information about this and similar content at piano.io