Luxurious duck breast is the perfect centerpiece for any special occasion or elegant meal.
Cal/Serv:
645
Yields:

2
Prep Time:

0

hours

20

mins


Total Time:

0

hours

35

mins


1

large duck breast
1
lb.

parsnips
1
c.

lower-sodium chicken broth
3
tsp.

olive oil
1/2

small red onion
1/2
c.

dry white wine
1/4
c.

apricots
1
tbsp.

apricot jam
1
tbsp.

red wine vinegar
chopped parsley
Preheat oven to 400 degrees F. Line small jelly-roll pan with foil.
Place duck on cutting board. Cover with plastic wrap. With flat side of meat mallet, pound to even 1-inch thickness. With knife, make 1/4-inch-deep cuts diagonally across skin side of duck breast, about 1/2 inch apart. Make another set of cuts perpendicular to first set to create diamond pattern.
In 4-quart saucepot, heat parsnips and broth to simmering on medium-high. Reduce heat to medium. Partially cover and simmer 13 to 18 minutes or until very tender.
In 10-inch skillet, heat 1 teaspoon oil on medium. Sprinkle duck with 1/4 teaspoon each salt and pepper to season both sides. Add duck to skillet, skin side down. Cook 5 minutes or until crisp and browned. Turn over. Cook another 2 minutes or until browned. Transfer to prepared pan, skin side up. Roast 5 to 7 minutes or until desired doneness (145 degrees F for medium). Transfer to clean cutting board and loosely tent with foil.
Drain all but 1 teaspoon fat from skillet. Add onion to skillet. Cook on medium 2 minutes or until browned, stirring frequently. Add wine and apricots. Cook 2 minutes or until wine is reduced by about half. Stir in jam, vinegar, and 1/8 teaspoon each salt and pepper. Cook 1 minute or until jam is melted, stirring frequently. Remove from heat.
With slotted spoon, transfer cooked parsnips to food processor along with 1/4 cup cooking liquid, remaining 2 teaspoons oil, and 1/8 teaspoon salt. Pulse just until smooth.
Divide parsnips between 2 serving plates. Thinly slice duck breast; arrange duck on top of parsnips. Top with apricot sauce and garnish with parsley, if desired.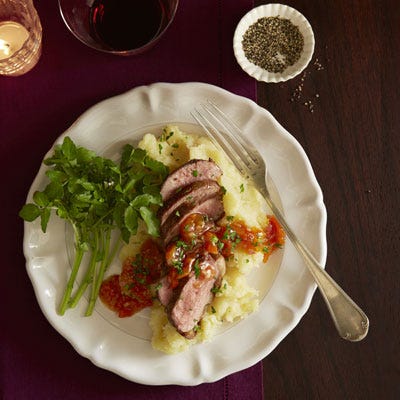 James Baigrie
This content is created and maintained by a third party, and imported onto this page to help users provide their email addresses. You may be able to find more information about this and similar content at piano.io