Cajun spices and blue cheese crumbles jazz up this recipe.
Cal/Serv:
340
Yields:

1
Prep Time:

0

hours

10

mins


Total Time:

0

hours

20

mins


1

Grillers Prime® Veggie Burgers

tsp.

Cajun seasoning
1

slice red onion
1

lettuce leaf
1

hamburger bun or Kaiser roll
1

slice tomato
1
tbsp.

crumbled blue cheese
Place veggie burger on baking sheet. Bake at 350 degrees F for 8 minutes. Turn burger. Sprinkle with Cajun seasoning. Bake at 350 degrees F for 7 to 8 minutes more or until heated through.
Meanwhile, in small nonstick skillet coated with cooking spray, cook onion over medium-low heat about 5 minutes or until tender.
Place lettuce leaf on bun bottom. Top with burger, tomato slice, onion rings, blue cheese, and bun top.

On The Grill: Preheat grill. Use a food thermometer to be sure patties reach minimum internal temperature of 160 degrees F.

Each serving provides 8% DV Vitamin A, 15% DV Vitamin C, 10% DV Calcium, 10% DV Iron.

®, ™, ©, 2010 Kellogg NA Co. Morningstar Farms® Recipes are the property of the Kellogg Company.
This recipe has been tested and endorsed by Kellogg and Morningstar Farms®.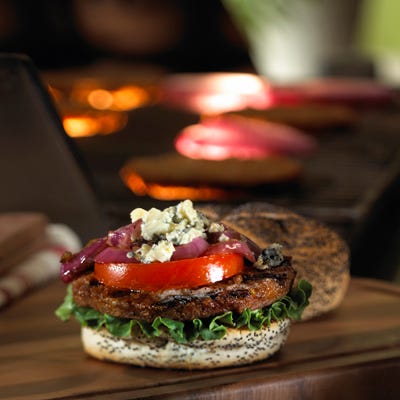 Courtesy of Morningstar Farms
This content is created and maintained by a third party, and imported onto this page to help users provide their email addresses. You may be able to find more information about this and similar content at piano.io